Examining the Role of Polymorphisms in Exon 25 of the PKD1 Gene in the Pathogenesis of Autosomal Dominant Polycystic Kidney Disease in Iranian Patients
Morteza Bagheri *, Khadijeh Makhdoomi, Ali Taghizadeh Afshari, Ahmad Ali Nikibakhsh, Isa Abdi Rad

The Role of Interleukin-4 and 13 Gene Polymorphisms in Allergic Rhinitis: A Case Control Study
Afshin Shirkani, Atena Mansouri, Reza Farid Hosseini, Farahzad Jabbari Azad, Reihaneh Alsadat Mahmoudian, Mehdi Montazer, Abdolreza Samimi, Amir Abbas Momtazi-Borojeni, Mohammad Reza Abbaszadegan *, Mehran Gholamin

Levisticum Officinale Extract Triggers Apoptosis and Down-Regulates ZNF703 Gene Expression in Breast Cancer Cell Lines
Fatemeh Mollashahee-Kohkan, Ramin Saravani *, Tahereh Khalili, Hamidreza Galavi, Saman Sargazi

Comparing the Diagnostic Accuracy of Anti-Müllerian Hormone and Follicle Stimulating Hormone in Detecting Premature Ovarian Failure in Iraqi Women by ROC Analysis
Farah Amer Abed *, Raya Ezzat Maroof , Ulfat Mohammed Ali Al-Nakkash

Estimation of Salivary sCD14 in Children with Early Childhood Caries in Association with Pneumonia
Eranthodika Nishana, Sham Subraya Bhat *, Kaup Sathish Sahana, Sundeep Kuloor Hegde, Vidya Bhat, Bhuvanesh Sukhlal Kalal

Nutrient Deprivation Modulates the Metastatic Potential of Breast Cancer Cells
Naghmeh Ahmadiankia *, Mehdi Bagheri, Mozhgan Fazli

Association of Endonuclease G Gene Variants with Cardiovascular Disease Risk Factors
Negar Etehad Roodi, Nushin Karkuki Osguei, Mahdy Hasanzadeh Daloee, Alireza Pasdar, Majid Ghayour-Mobarhan, Gordon Ferns, Ali Samadi Kuchaksaraei *

The Association of HLA-A, B and DRB1 with Buerger's Disease
Abbas Shapouri-Moghaddam, Mojgan Mohammadi, Hamid Reza Rahimi, Habibolah Esmaeili, Mahmoud Mahmoudi, Mohammad-Hadi Saeed Modaghegh, Jalil Tavakol Afshari

Purification of PIA and rSesC as Putative Vaccine Candidates Against Staphylococcus aureus
Sara Bahonar, Maryam Ghazvinian, Mohamad Reza Haghshenas, Hamid Reza Goli, Bahman Mirzaei *

The Effect of Low Testosterone and Estrogen Levels on Progressive Coronary Artery Disease in Men
Mansoureh Bajelan, Negar Etehad Roodi, Mahdy Hasanzadeh Daloee, Mansoureh Farhangnia, Ali Samadi Kuchaksaraei *

Frequency of Listeria monocytogenes Isolated from Diarrhea Samples of Pediatric Patients at Central Iran
Elnaz Abbasi, Alireza Amouzandeh-Nobaveh, Ehsanollah Ghaznavi-Rad *

Association of Two Methylenetetrahydrofolate Reductase Polymorphisms (rs1801133, rs1801131) with the Risk of Type 2 Diabetes in South-East of Iran
Maryam Poodineh, Ramin Saravani *, Mahboubeh Mirhosseini, Saman Sargazi

Pattern of ABCC Transporter Gene Expression in Pediatric Patients with Relapsed Acute Lymphoblastic Leukemia
Narjes Mehrvar, Hassan Abolghasemi, Mohammad Reza Rezvany, Mohammad Esmaeil Akbari, Javad Saberynejad, Azim Mehrvar, Mohammad Ali Ehsani, Mahyar Nourian, Ibrahim Qaddoumi, Abolfazl Movafagh *

SIRT1 Gene Polymorphisms Are Associated with Urinary Bladder Cancer in an Iranian Population
Zahra Shafieian, Gholamreza Bahari, Mohammad Hashemi, Alireza Nakhaee *

Beta-Secretase 1 (BACE1) Is Down-Regulated in Invasive Ductal Carcinoma of Breast
Hajar Yaghoobi, Hakim Azizi, Mehdi Banitalebi-Dehkordi, Fatemeh Mohammad Rezaei, Shahram Arsang-Jnag, Mohammad Taheri *, Soudeh Ghafouri-Fard

Year 2019
Year 2018
Year 2017
Year 2016
Year 2015
Year 2014
Year 2013
Year 2012
Reports of Biochemistry and Molecular Biology" is an Open Access journal, so publishing an article in the Journal requires publication fee that will be billed to the submitting author following the acceptance of an article for publication. The fee to be paid following the acceptance of an article is 250 US $ for the authors outside of Iran or 15,000,000 Iranian Rials for the authors inside of Iran. Longer papers are subjected to mandatory overlength page charges. To pay in Rial, follow the instruction in website and international payments can be done via PayPal to Editor-in-Chief@RBMB.net.

In order to have fast-tracked, authors should send their request to the Editor-in-Chief and pay an additional fee after first review by Editor and receiving the initial acceptance letter.

---
Journal Information
Current Issue: 2019، Volume 8، Number 2
Online ISSN:

2322-3480

Director-in-Charge:

Prof. AbdolReza Varasteh

Editor-in-Chief:

Dr. Fatemeh Vahedi

Publisher:

Varastegan Institute for Medical Sciences
Pubmed & Scopus & Doaj & ISI
view RBMB in PubMed Central and Scopus and Doaj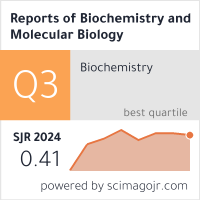 Newsletter subscription
Enter your email address to have site news and announcements delivered directly to your inbox.
Site Statistics
Registered users: 337 users
Online users: 0 users
Guest users: 9 users
All visits: 1894277 visits
Visits in 24 Hours: 2461 visits
Total articles: 369 articles
Published articles: 165 articles
Copyright Policy
This license lets others distribute, remix, tweak, and build upon your work, even commercially, as long as they credit you for the original creation. This is the most accommodating of licenses offered. Recommended for maximum dissemination and use of licensed materials.