Diagnostic methods for Lysosomal Storage Disease
Armin Mokhtariye, Lida Hagh-Nazari, Abdol-Reza Varasteh, Fatemeh Keyfi *

C-590T Promoter Polymorphism of the Interleukin (IL)-4 Gene Is Associated with an Increased Susceptibility to Nasal Polyposis
Mojgan Mohammadi, Shahriar Dabiri, Hamid Reza Mollaei, Samira Rezaee Jouzdani, Maryam Amizadeh, Jamshid Esmailzadeh, Mohammad Reza Baneshi, Aliasghar Arabi Mianroodi *

Investigation of CEBPA and CEBPA-AS Genes Expression in Acute Myeloid Leukemia
Milad Gholami, Sahar Bayat, Saba Manoochehrabadi, Hossein Pashaiefar, Mir Davood Omrani, Hasan Jalaeikhoo, Vahid Reza Yassaee, Mohammad Reza Ebrahimpour, Farkhondeh Behjati, Reza Mirfakhraie *

Overexpression of Lactate Dehydrogenase in the Saliva and Tissues of Patients with Head and Neck Squamous Cell Carcinoma
Farnaz Mohajertehran *, Hossein Ayatollahi, Amir Hossein Jafarian, Kamran Khazaeni, Mohammad Soukhtanloo, Mohammad-Taghi Shakeri, Nooshin Mohtasham

The Influence of Gamma Radiation Processing on the Allergenicity of Main Pistachio Allergens
Vahid Yaghoubi Naei *, Mojtaba Sankian, Malihe Moghadam, Narges Farshidi, Seyed Hasan Ayati, Fatemeh Hamid, Abdol-Reza Varasteh

Increasing Cellular Immune Response in Liposomal Formulations of DOTAP Encapsulated by Fusion Protein Hspx, PPE44, And Esxv, as a Potential Tuberculosis Vaccine Candidate
Mr Davood Mansury, Kiarash Ghazvini, Saeid Amel Jamehdar, Dr Ali Badiee, Mohsen Tafaghodi, Amin Reza Nikpoor, Yousef Amini, Mahmoud Reza Jaafari *

The Association Between the Transforming Growth Factor Beta-1 -509C>T Gene Polymorphism and Primary Open Angle Glaucoma in North Eastern Iran
Akbar Derakhshan, Jalil Tavakkol Afshari, Javad Sadeghi Allah Abadi *, Amin Reza Nikpoor, Ramin Daneshvar, Saeed Shokoohi Rad, Mohammad-Reza Ansari-Astaneh

Increased Levels of Acetylcholinesterase, Paraoxonase 1, and Copper in Patients with Moderate Depression- a Preliminary Study
Shobha Ullas Kamath, Abhishek Chaturvedi *, Devesh Bhaskar Yerrapragada, Nagendra Kundapura, Navaneeth Amin, Virupaksha Devaramane

Determining the Biofilm Forming Gene Profile of Staphylococcus aureus Clinical Isolates via Multiplex Colony PCR Method
Mostafa Shahmoradi, Peyman Faridifar, Reza Shapouri, Seyed Fazlollah Mousavi *, Mahnaz Ezzedin, Bahman Mirzaei

Determination of Optimum Excipients for Platanus orientalis Pollen Extract by Accelerating Chemical Stability Test and Their Synergistic Effect
Hasan Mansouritorghabeh, Mojtaba Sankian, Abdol-Reza Varasteh, Malihe Moghadam, Bahman Khameneh, Reza Farid-Hosseini, Farahzad Jabbari-Azad *

Subcutaneous Immunization with Recombinant Lactococcus lactis Expressing F1S1 Fusion Protein Induces Systemic and Mucosal Immune Responses in BALB/C Mice
Ali Torkashvand, Fariborz Bahrami, Minoo Adib, Soheila Ajdary *

High Mobility Group box-1 (HMGB1) Protein As a Biomarker for Acute Cholecystitis
Dr Mahmoud Amini, Dr Abdolali Pakdaman, Mrs Shima Shapoori, Dr Ghasem Mosayebi *

Significant Association and Increased Risk of Primary Open Angle Glaucoma with TGFB2 Rs991967 Gene Polymorphism in North Eastern Iranian Patients
Akbar Derakhshan, Javad Sadeghi Allah Abadi *, Jalil Tavakkol-Afshari, Amin Reza Nikpoor, Ramin Daneshvar, Saeed Shokoohi Rad, Mohammad-Reza Ansari-Astaneh, Sadegh Ghafarian

The Effect of Vitamin D on Cellular Pathways of Diabetic Nephropathy
Hoda Derakhshanian, Abolghassem Djazayery3, Mohammad Hassan Javanbakht, Mohammad Reza Eshraghian, Abbas Mirshafiey, Mahnaz Zarei, Ehsan Alvandi, Ehsan Djalali, Mahmoud Djalali *

Evaluating the Role of PTEN Promoter Methylation in Patients Predisposed to Hypercoagulable States via Methylation Specific PCR
Majid Hoseini *, Mehdi Sahmani, Farshad Foroughi, Yousef Khazaei Monfared, Mehdi Azad

Year 2019
Year 2019
Year 2018
Year 2017
Year 2016
Year 2015
Year 2014
Year 2013
Year 2012
Reports of Biochemistry and Molecular Biology" is an Open Access journal, so publishing an article in the Journal requires publication fee that will be billed to the submitting author following the acceptance of an article for publication. The fee to be paid following the acceptance of an article is 250 US $ for the authors outside of Iran or 15,000,000 Iranian Rials for the authors inside of Iran. Longer papers are subjected to mandatory overlength page charges. To pay in Rial, follow the instruction in website and international payments can be done via PayPal to Editor-in-Chief@RBMB.net.

In order to have fast-tracked, authors should send their request to the Editor-in-Chief and pay an additional fee after first review by Editor and receiving the initial acceptance letter.

---
Journal Information
Current Issue: 2019، Volume 7، Number 2
Online ISSN:

2322-3480

Director-in-Charge:

Prof. AbdolReza Varasteh

Editor-in-Chief:

Dr. Fatemeh Vahedi

Publisher:

Varastegan Institute for Medical Sciences
Pubmed & Scopus & Doaj & ISI
view RBMB in PubMed Central and Scopus and Doaj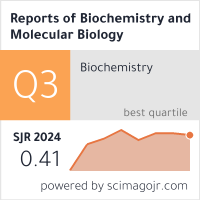 Newsletter subscription
Enter your email address to have site news and announcements delivered directly to your inbox.
Site Statistics
Registered users: 254 users
Online users: 0 users
Guest users: 11 users
All visits: 1569851 visits
Visits in 24 Hours: 1386 visits
Total articles: 296 articles
Published articles: 146 articles
Copyright Policy
This license lets others distribute, remix, tweak, and build upon your work, even commercially, as long as they credit you for the original creation. This is the most accommodating of licenses offered. Recommended for maximum dissemination and use of licensed materials.