Association of HLA-DRA and IL2RA Polymorphisms with the Severity and Relapses Rate of Multiple Sclerosis in an Iranian Population
Mohsen Asouri, Hamid Alinejad Rokni, Mohammad Ali Sahraian, Sadegh Fattahi, Nima Motamed, Rozita Doosti, Galia Amirbozorgi, Morteza Karimpoor *, Fereidoun Mahboudi, Haleh Akhavan-Niaki

The Evaluation of Antibiotic Resistance and nalB Mutants in Pseudomonas aeruginosa Isolated from Burnt Patients of Shohada Mehrab Yazd Hospital Burn Ward
Seyed Morteza Moosavi, Omid Pouresmaeil, Hengameh Zandi, Sahar Emadi, Fatemeh Akhavan, Alireza Torki, Akram Astani *

Protective Effect of Oxytocin Against Bone Loss in a Female Rat Model of Osteoporosis
Hoda Moghazy, Aida Mahmoud *, Hala ElBadre, Hekmat Osman Abdel Aziz

The Prevalence of 23S rRNA Mutations in ML-Resistant M. pneumoniae Isolates to Clarithromycin in Patients with Respiratory Infections
Hanieh Beikmohammadi, Iman Pouladi, Mohammad Reza Zolfaghari, Mohammad Niakan *

Importance of CNOT8 Deadenylase Subunit in DNA Damage Responses Following Ionizing Radiation (IR)
Samira Eskandarian, Roger Grand, Shiva Irani *, Mohsen Saeedi, Reza Mirfakhraie

Relative Expression of SOX2 and OCT4 in Oral Squamous Cell Carcinoma and Oral Epithelial Dysplasia
Narges Ghazi, Narges Aali, Vahid-Reza Shahrokhi, Farnaz Mohajertehran, Nasrollah Saghravanian *

Anti-Proliferative Effect of Specific Anti-EGFR Single Chain Antibody on Triple Negative Breast Cancer Cells
Foroogh Abdollahzadeh, Forough Nejatollahi *

Examining the Frequency of the JAK2 (V617F) Mutation in Patients with Myeloproliferative Diseases in North Eastern Iran and the Effect of Treatment Intervention
Mojila Nasseri, Fatemeh Keyfi, Raheleh Rahbarian, Majid Rajabian, Mohammad Reza Abbaszadegan *

Methylation of the PKD1 Promoter Inversely Correlates with its Expression in Autosomal Dominant Polycystic Kidney Disease
Fatemeh Hajirezaei, Sayyed Mohammad Hossein Ghaderian *, Mandana Hasanzad, Mohsen Nafar, Mohammad Hassan Ghadiani, Sajjad Biglari, Nasim Sohrabifar, Hossein Jafari

Analysis of Single Nucleotide Polymorphisms in HLA-DRA, IL2RA, and HMGB1 Genes in Multiple Sclerosis
Mohsen Asouri, hamid Alinejad Rokni, Mohammad Ali Sahraian, Sadegh Fattahi, Nima Motamed, Rozita Doosti, Hamzeh Rahimi, Maryam Lotfi, Azam Moslemi, Morteza Karimpoor, Fereidoun Mahboudi *, Haleh Akhavan-Niaki

Evaluation of Adipokines Concentration in Iraqi Patients with Major and Minor Beta Thalassemia
Nazar Sattar Harbi *, Alaa Hussein Jawad , Farah Kadhum Alsalman

Impact of Laboratory Methods and Gene Targets on Detection of Streptococcus pneumoniae in Isolates and Clinical Specimens
Mehrdad Mosadegh, Rozita Asadian, Amir Darb Emamie, Mohammadreza Rajabpour, Elmira Najafinasab, Mohammad Azarsa *

Molecular Detection and Evaluation of MLـ Resistance M. Pneumoniae Associated with Mutation in 23S RNA Gene among Iranian Patients with Respiratory Infections
Iman Pouladi, Reza Mirnejad, Susan Rostampur, Soghra Viesy, Mohammad Niakan *

Long Non-Coding HULC and miRNA-372 as Diagnostic Biomarkers in Hepatocellular Carcinoma patients
Olfat Shaker, Hala Mahfouz *, Ahmad Salama, Engy Medhat

Serum Ischemia-Modified Albumin, Fibrinogen, High Sensitivity C- Reactive Proteins in Type-2 Diabetes Mellitus without Hypertension and Diabetes Mellitus with Hypertension: A Case-Control Study
Sushith Sushith, Herijenahalli Nagaraju Krishnamurthy, Shridhar Reshma, D'Sa Janice, Gopal Madan , Kumar Jeppu Ashok, Mangalore Balakrishna Prathima *, Bhuvanesh Sukhlal Kalal

Year 2020
Year 2020
Year 2019
Year 2018
Year 2017
Year 2016
Year 2015
Year 2014
Year 2013
Year 2012
Reports of Biochemistry and Molecular Biology" is an Open Access journal, so publishing an article in the Journal requires publication fee that will be billed to the submitting author following the acceptance of an article for publication. The fee to be paid following the acceptance of an article is 250 US $ for the authors outside of Iran or 30,000,000 Iranian Rials for the authors inside of Iran. Longer papers are subjected to mandatory overlength page charges. To pay in Rial, follow the instruction in website and international payments can be done via PayPal to Editor-in-Chief

RBMB.net.

In order to have fast-tracked, authors should send their request to the Editor-in-Chief and pay an additional fee after first review by Editor and receiving the initial acceptance letter.

---
Journal Information
Current Issue: 2020، Volume 9، Number 2
Online ISSN:

2322-3480

Director-in-Charge:

Prof. AbdolReza Varasteh

Editor-in-Chief:

Dr. Fatemeh Vahedi

Publisher:

Varastegan Institute for Medical Sciences
Pubmed & Scopus & Doaj & ISI
view RBMB in PubMed Central and Scopus and Doaj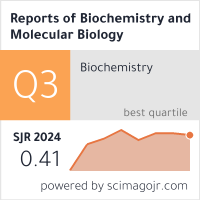 Newsletter subscription
Enter your email address to have site news and announcements delivered directly to your inbox.
Site Statistics
Registered users: 590 users
Online users: 0 users
Guest users: 15 users
All visits: 2867646 visits
Visits in 24 Hours: 2293 visits
Total articles: 561 articles
Published articles: 230 articles
Copyright Policy
This license lets others distribute, remix, tweak, and build upon your work, even commercially, as long as they credit you for the original creation. This is the most accommodating of licenses offered. Recommended for maximum dissemination and use of licensed materials.