Recombinant Expression and Purification of Extracellular Domain of the Programmed CellDeath Protein Receptor
Adish Zhansaya *, Mukantayev Kanatbek, Tursunov Kanat, Ingirbay Bakhytkali, Kanayev Darkhan, Kulyyassov Arman, Tarlykov Pavel, Mukanov Kasym, Ramankulov Yerlan

Effects of Reduced Mir-24 Expression on Plasma Methotrexate Levels, Therapy-Related Toxicities,and Patient Outcomes in Pediatric Acute Lymphoblastic Leukemia
Mohammad Ali Esmaili, Ahmad Kazemi, Farhad Zaker, Mohammad Faranoush, Mohammad Reza Rezvany

Swapping of The N-Terminal Domain of Human Topoisomerase 1B with the Corresponding Plasmodium Falciparum Counterpart Strongly Impairs Enzyme Activity
Jagadish Babu Dasari, Bini Chhetri Soren, Alessio Ottaviani, Cinzia Tesauro, Simona Marino, Beatrice Messina, Paola Fiorani *

Investigation of the Effects of Apple Trees Infection by Erwinia amylovora on the Expression of Pathogenesis-Related Proteins Homologous to Allergens
Nasser Beikzadeh *, Abdol-Reza Varasteh

Development of a Cost-Effective Line Probe Assay for Rapid Detection and Differentiation of Mycobacterium Species: A Pilot Study
Reza kamali Kakhki , Ehsan Aryan, Zahra Meshkat, Mojtaba Sankian *

Determining the Effect of Amino Acids on the Allergenic Activity of Pollen Extracts
Nazila Ariaee, Mojtaba Sankian, Abdolreza Varasteh, Mitra Hosseinpour, Farahzad Jabbari *

Identification of Novel Pathogenic PKD2 Variants in Iranian Patients with Autosomal Dominant Polycystic Kidney Disease
Morteza Bagheri *, Khadijeh Makhdoomi, Ali Taghizadeh Afshari, Ahmad Ali Nikibakhsh, Isa Abdi Rad

Effect of Treatment with Thyme Extract on Urinary Levels of Melatonin in an Experimental Autoimmune Encephalomyelitis Mouse Model
Merat Mahmoodi, Farnaz Sedghy *, Abdollah Jafarzadeh

Molecular Detection of Adefg Efflux Pump Genes and their Contribution to Antibiotic Resistance in Acinetobacter baumannii Clinical Isolates
Rasoul Kaviani, Iman Pouladi, Mohammad Niakan *, Reza Mirnejad

C-MAF Expression in Adult Human Ocular Surface and its Implication in Pterygium Pathogenesis
Hasan Mahmud Reza *, Razwa Saleh, Preeti Jain, Ghazi Muhammad Sayedur Rahman, Asim Kumar Bepari

Analysis of MicroRNA-18a Expression in Multiple Sclerosis Patients
Atefeh Sohan Forooshan Moghadam, Mitra Ataei, Ghazaleh Arabzadeh, Kowsar Falahati, Fatemeh Roshani, Mohammad Hossein Sanati *

Abemaciclib (CDK4/6 Inhibitor) Blockade Induces Cytotoxicity in Human Anaplastic Thyroid Carcinoma Cells
Elaheh Seyed Abutorabi, Shiva Irani, Marjan Yaghmaie, Seyed Hamid Ghaffari

Investigation of Aneusomy of Chromosome 21 in the Micronuclei of 13 Patients with Early Onset Alzheimer's Disease Using Fluorescence in Situ Hybridization: A Pilot Study
Sajjad Biglari, Koorosh Kamali, Sousan Banihashemi, Arash Faal Sezavari, Seyed Mohsen Aghajanpour-Mir, Farkhondeh Behjati *

The Gene Expression Profile and DNA Methylation Pattern of CDH1 and DNMT1 Genes in Acute Promyelocytic Leukemia (APL)
Sanaz Zebardast, Mehdi Sahmani, Saeed Mohammadi, Farshad Foroughi, Ali Dehghani Fard, Zahra Mohammadi, Sahar Khojastepour, Mehdi Azad *

Cloning, Expression and Purification of Espc, Espb and Espc/Espb Proteins of Mycobacterium tuberculosis ESX-1 Secretion System
Omid Salemi, Zahra Noormohammadi, Fariborz Bahrami, Seyed Davar Siadat, Soheila Ajdary *

Year 2020
Year 2020
Year 2019
Year 2018
Year 2017
Year 2016
Year 2015
Year 2014
Year 2013
Year 2012
Reports of Biochemistry and Molecular Biology" is an Open Access journal, so publishing an article in the Journal requires publication fee that will be billed to the submitting author following the acceptance of an article for publication. The fee to be paid following the acceptance of an article is 250 US $ for the authors outside of Iran or 20,000,000 Iranian Rials for the authors inside of Iran. Longer papers are subjected to mandatory overlength page charges. To pay in Rial, follow the instruction in website and international payments can be done via PayPal to Editor-in-Chief

RBMB.net.

In order to have fast-tracked, authors should send their request to the Editor-in-Chief and pay an additional fee after first review by Editor and receiving the initial acceptance letter.

---
Journal Information
Current Issue: 2020، Volume 8، Number 4
Online ISSN:

2322-3480

Director-in-Charge:

Prof. AbdolReza Varasteh

Editor-in-Chief:

Dr. Fatemeh Vahedi

Publisher:

Varastegan Institute for Medical Sciences
Pubmed & Scopus & Doaj & ISI
view RBMB in PubMed Central and Scopus and Doaj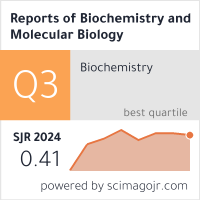 Newsletter subscription
Enter your email address to have site news and announcements delivered directly to your inbox.
Site Statistics
Registered users: 482 users
Online users: 0 users
Guest users: 3 users
All visits: 2492131 visits
Visits in 24 Hours: 1520 visits
Total articles: 475 articles
Published articles: 201 articles
Copyright Policy
This license lets others distribute, remix, tweak, and build upon your work, even commercially, as long as they credit you for the original creation. This is the most accommodating of licenses offered. Recommended for maximum dissemination and use of licensed materials.