Clinical Correlation of miR-200c/141 Cluster DNA Methylation and miR-141 Expression with the Clinicopathological Features of Colorectal Primary Lesions/Tumors
Zahra Taheri, Hamid Asadzadeh Aghdaei, Shiva Irani *, Mohammad Hossein Modarressi, Zahra Noormohammadi

The Pro-Oxidant, Apoptotic and Anti-Angiogenic Effects of Selenium Supplementation on Colorectal Tumors Induced by 1,2- Dimethylhydrazine in BALB/C Mice
Mohammed Saeed Ali, Rasha Mohamed Hussein *, Mohamed Ahmed Kandeil

Analysis of Methods to Improve the Solubility of Recombinant Bovine Sex Determining Region Y Protein
Bijan Soleymani, Ali Mostafaie *

The Effect of Vitamin D Supplementation on Serum and Muscle Irisin Levels, and FNDC5 Expression in Diabetic Rats
Hoda Nadimi, Abolghassem Djazayery, Mohammad Hassan Javanbakht, Ahmadreza Dehpour, Ehsan Ghaedi, Hoda Derakhshanian, Hamed Mohammadi, Mahnaz Zarei, Mahmoud Djalali *

Dysregulated KDR and FLT1 Gene Expression in Colorectal Cancer Patients
Fatemeh Mohammad Rezaei, Shahryar Hashemzadeh, Reyhaneh Ravanbakhsh Gavgani, Mohammadali Hosseinpour Feizi, Nasser Pouladi, Hossein Samadi Kafil, Leila Rostamizadeh, Vahid Kholghi Oskooei, Mohammad Taheri, Ebrahim Sakhinia *

Comparison of Serum Levels of Fructosamine and Erythrocyte Sodium Potassium ATPase (Na+/K+ ATPase) in Gestational Diabetes Mellitus (GDM) and non-Gestational Diabetes Mellitus (non GDM) Patients
Revathi Panduranga Shenoy, Gagana Hanumaiah, Varashree Bolar Suryakanth *, Priyanka Shridharan

Antiproliferative Activity of Hypericum perforatum, Achillea millefolium, and Aloe vera in Interaction with the Prostatic Activity of CD82
Motahare-Sadat Hosseini, Fatemehsadat Hosseini, Abdolreza Ahmadi, Masoud Mozafari, Issa Amjadi *

E-Cadherin Protein as a Potential Marker for Gastric Cancer and Its Association with Helicobacter Pylori- Induced Gastritis and Gastric Ulcer
Mustafa Kahtan Al-Bayaty *, Salma Abdul-Rudha Abass, Mohammed Faraj Al-Marjani

Production of Dextran from Locally Lactobacillus Spp. Isolates
Ali Jumma Kareem, Jehan Abdul Sattar Salman *

Targeting Altered Mitochondrial Biogenesis in the Brain of Diabetic Rats: Potential Effect of Pioglitazone and Exendin-4
Ola Mostafa Tork, Laila Ahmed Rashed, Nermeen Bakr Sadek, Marwa Sayed Abdel-Tawab *

Isolation of Neutralizing Human Single Chain Antibodies Against Conserved Hemagglutinin Epitopes of Influenza A Virus H3N2 Strain
Mahboubeh Poursiami, Setareh Moazen, Foroogh Nejatollahi *, Afagh Moattari

Isolation of Specific Human Recombinant Antibodies Against Glycoprotein 41 of HIV
Mohammad Javad Aghaei Afshar, Reza Robati, Foroogh Nejatollahi *

Achillea Wilhelmsii C. KochHydroalcoholic Extract Induces Apoptosis and Alters LIN28B and p53 Gene Expression in Hela Cervical Cancer Cells
Mehdi Rezai, Ramin Saravani *, Saman Sargazi, Mahdiyeh Moudi, Mahdieh Jafari Shahroudi, Roya Saravani

Goat Polyclonal Antibody Against the Sex Determining Region Y to Separate X- and Y-Chromosome Bearing Spermatozoa
Bijan Soleymani, Shahram Parvaneh, Ali Mostafaie *

Introducing the Best Six Loci in Mycobacterial Interspersed Repetitive Unit-Variable-Number Tandem Repeat (MIRU-VNTR) Typing for Mycobacterium TuberculosisGenotyping
Mahdis Ghavidel *, Keyvan Tadayon, Nader Mosavari, Kimiya Nourian, Hamid Reza BahramiTaghanaki, Gholam Reza Mohammadi, Mohammad Rashtibaf, Kiarash Ghazvini

Year 2020
Year 2019
Year 2018
Year 2017
Year 2016
Year 2015
Year 2014
Year 2013
Year 2012
Reports of Biochemistry and Molecular Biology" is an Open Access journal, so publishing an article in the Journal requires publication fee that will be billed to the submitting author following the acceptance of an article for publication. The fee to be paid following the acceptance of an article is 250 US $ for the authors outside of Iran or 20,000,000 Iranian Rials for the authors inside of Iran. Longer papers are subjected to mandatory overlength page charges. To pay in Rial, follow the instruction in website and international payments can be done via PayPal to Editor-in-Chief

RBMB.net.

In order to have fast-tracked, authors should send their request to the Editor-in-Chief and pay an additional fee after first review by Editor and receiving the initial acceptance letter.

---
Journal Information
Current Issue: 2019، Volume 8، Number 3
Online ISSN:

2322-3480

Director-in-Charge:

Prof. AbdolReza Varasteh

Editor-in-Chief:

Dr. Fatemeh Vahedi

Publisher:

Varastegan Institute for Medical Sciences
Pubmed & Scopus & Doaj & ISI
view RBMB in PubMed Central and Scopus and Doaj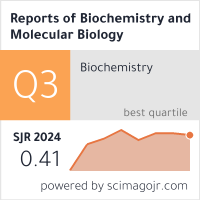 Newsletter subscription
Enter your email address to have site news and announcements delivered directly to your inbox.
Site Statistics
Registered users: 443 users
Online users: 0 users
Guest users: 5 users
All visits: 2339910 visits
Visits in 24 Hours: 1993 visits
Total articles: 453 articles
Published articles: 188 articles
Copyright Policy
This license lets others distribute, remix, tweak, and build upon your work, even commercially, as long as they credit you for the original creation. This is the most accommodating of licenses offered. Recommended for maximum dissemination and use of licensed materials.