Association Between IFN-γ +874 T/A (Rs2430561) Polymorphisms and Bipolar 1 Disorder: A Study in an Ethnic Iranian Population
Mahdieh Fatemi Nayeri, Ali Talaei *, Jalil Tavakkol Afshari, Amin Reza Nikpoor, Andisheh Talaei, Rashin Ganjali

The Serum Levels of CCL2 and CCL16 Expression in Patients with Irritable Bowel Syndrome
Mohammad Mahdi Hayatbakhsh, Arezoo Gowhari Shabgah, Saeed Pishgouyi, Jalil Tavakiol Afshari, Hadi Zeidabadi, Mojgan Mohammadi *

Effects of Pioglitazone On the Lipid Profile, Serum Antioxidant Capacity, and UCP1 Gene Expression in Mouse Brown Adipose Tissue
Amin Mahmoudi, Keihan Ghatreh Samani *, Seyed Asadollah Amini, Esfandiar Heidarian

MED12 Exon 1 Mutational Screening in Iranian Patients with Uterine Leiomyoma
Mojdeh Akbari, Atieh Abedin Do, Fakhrolmolouk Yassaee, Reza Mirfakhraie *

Expression of Long Non-Coding RNAs in Placentas of Intrauterine Growth Restriction (IUGR) Pregnancies
Iman Azari, Soudeh Ghafouri-Fard, Mir Davood Omrani, Shahram Arsang-Jang, Dor Mohammad Kordi Tamandani, Mehrnaz Saroone Rigi, Sara Rafiee, Farkhondeh Pouresmaeili, Mohammad Taheri *

Design and Construction of a Eukaryotic Cloning Vector Encoding the mpt51 Gene of Mycobacterium tuberculosis
Faria Hasanzadeh Haghighi, Ehsan Aryan, Aida Gholoobi, Hosna Zare, Zahra Meshkat *

The Expression of CCAT2, UCA1, PANDA and GHET1 Long Non-Coding RNAs in Lung Cancer
Farbod Esfandi, Hamid Fallah, Shahram Arsang-Jang, Mohammad Taheri *, Soudeh Ghafouri-Fard

The Protective Role of Gallic Acid Pretreatment On Renal Ischemia-reperfusion Injury in Rats
Hassan Ahmadvand, Banafsheh Yalameha, Glavizh Adibhesami, Maryam Nasri, Negar Naderi, Esmaeel Babaeenezhad, Negar Nouryazdan *

Oxidative Stress Status and Liver Markers in Coronary Heart Disease
Mostafa Cheraghi, Hassan Ahmadvand *, Ali Maleki, Esmaeel Babaeenezhad, Salman Shakiba, Fatemeh Hassanzadeh

Association Study of Sequence Variants in Voltage-gated Ca2+ Channel Subunit Alpha-1C and Autism Spectrum Disorders
Arezou Sayad, Soudeh Ghafouri-Fard, Rezvan Noroozi, Mir Davood Omrani, Maziar Ganji, Romina Dastmalchi, Mark Glassy, Mohammad Taheri *

Inhibitory and Apoptotic Effects of Mannan-Mitomycin C Conjugate Against Transitional Cell Carcinoma and Normal Mouse Fibroblasts
Ladan Kabiri, Shiva Irani, Amin Reza Nikpoor, Jalil Tavakkol Afshari *

Ischemia-Modified Albumin, Creatinine, And Paraoxonase-1 Levels in Serum of Patients Undergoing Intravenous Contrast-Enhanced Computed Tomography and Its Association with Contrast-Induced Nephropathy
Chanda Jha, Shobha Ullas Kamath *, Sambit Dash, Ravindra Prabhu Attur, Lingadakai Ramachandra, Rajgopal Shenoy Kallya

Cytotoxic and Apoptotic Effects of Scrophularia Umbrosa Dumort Extract on MCF-7 Breast Cancer and 3T3 Cells
Mustafa Mansouri, Seyed Adel Moallem, Javad Asili, Leila Etemad *

Association of Vitamin D Status with the Severity and Mortality of Community-Acquired Pneumonia in Iran during 2016-2017:A Prospective Cohort Study
Fatemeh Talebi, Mehrnaz Rasooli nejad, Mehdi Yaseri, Azar Hadadi *

Application of Multiplex Ligation-Dependent Probe Amplification in Determining the Copy Number Alterations of HER Gene Family Members in Invasive Ductal Breast Carcinoma
Mohsen Soosanabadi, Reza Mirfakhraie, Lilit Atanesyan, Akbar Biglarian, Fatemeh Aghakhani Moghadam, Maryam Rahimi, Farkhondeh Behjati, Elaheh Keyhani *

Year 2019
Year 2019
Year 2018
Year 2017
Year 2016
Year 2015
Year 2014
Year 2013
Year 2012
Reports of Biochemistry and Molecular Biology" is an Open Access journal, so publishing an article in the Journal requires publication fee that will be billed to the submitting author following the acceptance of an article for publication. The fee to be paid following the acceptance of an article is 250 US $ for the authors outside of Iran or 15,000,000 Iranian Rials for the authors inside of Iran. Longer papers are subjected to mandatory overlength page charges. To pay in Rial, follow the instruction in website and international payments can be done via PayPal to Editor-in-Chief@RBMB.net.

In order to have fast-tracked, authors should send their request to the Editor-in-Chief and pay an additional fee after first review by Editor and receiving the initial acceptance letter.

---
Journal Information
Current Issue: 2019، Volume 8، Number 1
Online ISSN:

2322-3480

Director-in-Charge:

Prof. AbdolReza Varasteh

Editor-in-Chief:

Dr. Fatemeh Vahedi

Publisher:

Varastegan Institute for Medical Sciences
Pubmed & Scopus & Doaj & ISI
view RBMB in PubMed Central and Scopus and Doaj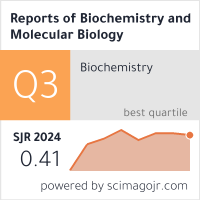 Newsletter subscription
Enter your email address to have site news and announcements delivered directly to your inbox.
Site Statistics
Registered users: 311 users
Online users: 0 users
Guest users: 8 users
All visits: 1774752 visits
Visits in 24 Hours: 1509 visits
Total articles: 351 articles
Published articles: 157 articles
Copyright Policy
This license lets others distribute, remix, tweak, and build upon your work, even commercially, as long as they credit you for the original creation. This is the most accommodating of licenses offered. Recommended for maximum dissemination and use of licensed materials.