The Antimicrobial Peptide, Nisin, Synergistically Enhances the Cytotoxic and Apoptotic Effects of Rituximab Treatment on Human Burkitt's Lymphoma Cell Lines
Pantea Mohammadi, Mina Zangeneh, Hamid-Reza Mohammadi-Motlagh, Fatemeh Khademi *

Molecular Detection of Campylobacter Species: Comparision of 16SrRNA with slyD, cadF, rpoA, and dnaJ Sequencing
Elahe Ghorbani marghmaleki, Azam Ahmadi *, Mohammad Arjomandzadegan, Majid Akbari, Aysan Karamghoshchi

Novel and Efficient Protocol for DNA Coating- Based Identification of DNA-Protein Interaction by Antibody-Mediated Immunodetection
Niranjan Chellathurai Vasantha, Johnson Retnaraj Samuel Selvan *, Saravanakumar Venkatachalam, Jackson Durairaj Selvan Christyraj

Assessment the Correlations of Hormones,Lipid Profiles, Oxidative Stress, and Zinc Concentration in Iraqi Women with Polycystic Ovary Syndrome
Ashwaq Shenta, Khansaa Saud, Ali Al-Shawi *

Protective Effects of Quercetin and Melatonin on Indomethacin Induced Gastric Ulcers in Rats
Marwa Sayed Abdel-Tawab *, Ola Mostafa Tork, Gomaa Mostafa-Hedeab, Manal Ewaiss Hassan

Correlation between Lsp1 (Rs3817198) and Casc (Rs4784227) Polymorphisms and the Susceptibility to Breast Cancer
Zahra Nourolahzadeh, Seyyed Masoud Houshmand *, Fawzia Mostafa Mohammad, Saeed Ghorbian

Fabrication and Optimization of Linear PEI-Modified Crystal Nanocellulose as an Efficient Non-Viral Vector for In-Vitro Gene Delivery
Haghighat Vakilian, Eduardo Andres Rojas, Lida Habibi Rezaei, Mehrdad Behmanesh *

Recognition of (Sesc) for Easy Identification of Staphylococcus Epidermidis and Molecular and Phenotypic Study of Β-Lactam Resistance in Staphylococcus Epidermidis Isolates in Isfahan
Parisa Behshood, Elahe Tajbakhsh *, Hassan Momtaz

Noninvasive Fetal Sex Determination by Real-Time PCR and TaqMan Probes
Mohammad Hossein Ahmadi, Naser Amirizadeh, Maryam Rabiee, Fatemeh Rahimi-Sharbaf, Ali Akbar Pourfathollah *

Stage-Specific Differential Gene Expression of Glutathione Peroxidase in Leishmania Major and Leishmania Tropica
Nasrin Amiri-Dashatan, Mehdi Koushki, Mostafa Rezaei-tavirani, Nayebali Ahmadi *

Comparison of Osteogenic Potential of Phenytoin with Dexamethasone in Cultured Dental Pulp Stem Cells
Mitra Asgharian-Rezaee, Raheleh Alipour-Farmad, Zahra Tayarani-Najaran *

The Effects of Pre-Treatment and Post-Treatment of Thymol against tert-Butyl Hydroperoxide (t-BHP) Cytotoxicity in MCF-7 Cell Line and Fibroblast Derived Foreskin
Afsaneh Dashtaki, Soleiman Mahjoub *, Ebrahim Zabihi, Roghayeh Pourbagher

Recombinant Tandem Repeated Expression of S3 and S∆3 Antimicrobial Peptides
Sadegh Rezaei, Shahin Hadadian *, Ramazan Ali Khavari-Nejad, Dariush Norouzian

H19/Igf2 Expression and Methylation of Histone 3 in Mice Chimeric Blastocysts
Maryam Salimi, Abolfazl Shirazi *, Mohsen Norouzian*, Ameneh Jafari, Haleh Edalatkhah, Maryam Mehravar, Mohammad Majidi, Mohammad Mehdi Mehrazar

Association of Glutathione S-Transferase theta 1 and mu 1 Genes Polymorphisms with the Susceptibility of Myocardial Infarction in Bangladesh
Ms. Jyosna Khanam, Delowar Hossain, Bayejid Hosen *, Mesbah Uddin, Asadul Kabir, Mohammad Anwarul Bari

Year 2021
Year 2020
Year 2019
Year 2018
Year 2017
Year 2016
Year 2015
Year 2014
Year 2013
Year 2012
Reports of Biochemistry and Molecular Biology" is an Open Access journal, so publishing an article in the Journal requires publication fee that will be billed to the submitting author following the acceptance of an article for publication. The fee to be paid following the acceptance of an article is 250 US $ for the authors outside of Iran or 30,000,000 Iranian Rials for the authors inside of Iran. Longer papers are subjected to mandatory overlength page charges. To pay in Rial, follow the instruction in website and international payments can be done via PayPal to Editor-in-Chief

RBMB.net.

In order to have fast-tracked, authors should send their request to the Editor-in-Chief and pay an additional fee after first review by Editor and receiving the initial acceptance letter.

---
Journal Information
Current Issue: 2020، Volume 9، Number 3
Online ISSN:

2322-3480

Director-in-Charge:

Prof. AbdolReza Varasteh

Editor-in-Chief:

Dr. Fatemeh Vahedi

Publisher:

Varastegan Institute for Medical Sciences
Pubmed & Scopus & Doaj & ISI
view RBMB in PubMed Central and Scopus and Doaj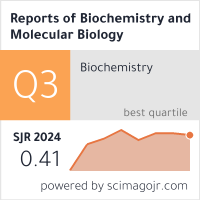 Newsletter subscription
Enter your email address to have site news and announcements delivered directly to your inbox.
Site Statistics
Registered users: 651 users
Online users: 0 users
Guest users: 4 users
All visits: 3101614 visits
Visits in 24 Hours: 3675 visits
Total articles: 611 articles
Published articles: 251 articles
Copyright Policy
This license lets others distribute, remix, tweak, and build upon your work, even commercially, as long as they credit you for the original creation. This is the most accommodating of licenses offered. Recommended for maximum dissemination and use of licensed materials.