Molecular and Immunohistochemical Alterations in Breast Cancer Patients in Upper Egypt
Sanaa Hagag, Ahmad Kodous *, HebatAllah Shaaban

The bFGF Can Improve Angiogenesis in Oral Mucosa and Accelerate Wound Healing
Reza Zare, Hamidreza Abdolsamadi, Sara Soleimani Asl, Shahrbanoo Radi, Hossein Bahrami, Shokoofeh Jamshidi *

Resveratrol; a Double-Edged Sword Antioxidant Agent for Preserving Platelet Cell Functions During Storage; Molecular Insights
Abbas Khosravi, Mohammad Reza Deyhim *, Fatemeh Yari, Mahin Nikougoftar Zarif

Vitamin D Status in Osteoporotic and Diabetic Patients and Athletic Healthy Individuals from Northern Greece
Constantine Anetakis *, Stella Mitka, Maria Chatzidimitriou, Konstantinos Anagnostopoulos, Phaedra Eleftheriou, Theodoros Lialiaris

Comparing the Biological Properties of Double-Stranded DNA Extracted from Human and Porcine Placenta and Salmon Sperm
Anastasia Proskurina, Valeriy Nikolin, Nelly Popova, Nikolay Varaksin, Tatiana Ryabicheva, Elizaveta Ershova, Svetlana Kostyuk, Olga Leplina, Alexandr Ostanin, Elena Chernykh, Sergey Bogachev *

Evaluation of the Immunogenicity of Recombinant Espb, Espc Proteins from Mycobacterium Tuberculosis and the Fusion Espc/Espb Protein in BALB/C Mice
Omid Salemi, Zahra Noormohammadi, Fariborz Bahrami, Seyed Davar Siadat, Soheila Ajdary *

The Use of Chitosan Nanoparticles for Delivery of CpG ODN in Treatment of Allergic Balb/C Mice
Febriana Catur Iswanti *, Qarina Hasyala Putri, Ani Retno Prijanti, Samsuridjal Djauzi, Mohamad Sadikin, Arief Budi Witarto, Tomohiko Yamazaki

The Emerging Role of Circular RNA Homeodomain Interacting Protein Kinase 3 and Circular RNA 0046367 through Wnt/Beta-Catenin Pathway on the Pathogenesis of Nonalcoholic Steatohepatitis in Egyptian Patients
Marwa Abdelgwad, Reem Zakaria *, Samar Marzouk, Dina Sabry, Rasha Ahmed, Hedy Ayman Badary, Mai Samir

Loading Ovalbumin into Mesenchymal Stem Cell-Derived Exosomes as a Nanoscale Carrier with Immunomodulatory Potential for Allergen-Specific Immunotherapy
Sajad Dehnavi, Ali Khodadadi, Ali Asadirad, Ata Ghadiri *

Role of Long non Coding RNAs, NEAT1 and Lnc-DC Expression in Pediatric Immune Thrombocytopenic Purpura
Soha Mohamed Hamdy, Marwa Saad Ali, Rehab Galal Abd El-Hmid, Noha Khalifa Abdelghaffar, Omayma Owees Abdelaleem *

Sodium Hydrosulfide Modification of Mesenchymal Stem Cell-Exosomes Improves Liver Function in CCL4-Induced Hepatic Injury in Mice
Maryam Jafar Sameri *, Rafie Belali, Niloofar Neisi, Reza Noei Razliqi *, Seyed Ali Mard, Feryal Savari, Seyyed Saeed Azandeh

Matrix Metalloproteinase-3 but Not Matrix Metalloproteinase-9, Implicated in the Manifestation of Chronic Periodontitis
Pouyan Razavi, Seyed Abdolrahim Rezaee, Salehe Akhondian, Nastaran Asgari, Kazem Fatemi *, Farnaz Mohajertehran*

Evaluation of Caffeine Ingested Timing on Endurance Performance based on CYP1A2 rs762551 Profiling in Healthy Sedentary Young Adults
Yones Guntoro Aji, Stella Melita, Rendy Dijaya, Dionysius Subali *, Felicia Kartawidjajaputra, Antonius Suwanto

EBNA1 Upregulates P53-Inhibiting Genes in Burkitt's Lymphoma Cell Line
Seyed Mohammad Ali Hashemi, Abdolvahab Moradi, Seyed Younes Hosseini, Hadi Razavi Nikoo, Taravat Bamdad, Mahboobeh Razmkhah, Jamal Sarvari *, Alijan Tabarraei*

Potential Inhibitors of The OTUB1 Catalytic Site to Develop an Anti-Cancer Drug Using In-Silico Approaches
Octavio Galindo-Hernández, Lizbeth Angelina García-Salazar, Victor Guadalupe García-González, Raúl Díaz-Molina, José Luis Vique-Sánchez *

Analysis of Antibody Induction by Macrophages Treated Ex Vivo with Human Proteins in Mice
Malika Nurtleu, Zhansaya Adish, Kasym Mukanov, Kanat Tursunov *, Yerlan Ramankulov, Kanatbek Mukantayev

Transforming Growth Factor Β as a Marker of Hepatocellular Carcinoma in Patients with Chronic Hepatitis C Virus Infection
Assem Abdeen Radwan *, Nour El-Dean Abd-Elazeem Hefney, Emad Farah Mohammed Kholef, Abdallah Elebidi, Hala Mahmoud

Evaluation of IGF2, KRT14, and KRT20 as Urinary Biomarkers in Patients with Bladder Cancer
Azam Rasti, Masoud Khalili, Ali Mohammad Fakhr Yasseri, Neda Nasirian, Reza Shirkoohi, Mohammad Reza Nowroozi, Mohammad Hossein Modarressi *

Effect of Processed Soybeans (Tofu and Tempeh) Consumption, and Exercise on Upper Respiratory Tract Immunity
Albert Ananta, Rendy Dijaya, Dionysius Subali *, Felicia Kartawidjajaputra, Lina Antono

Influence of Nanocurcumin and Photodynamic Therapy Using Nanocurcumin in Treatment of Rat Tongue Oral Squamous Cell Carcinoma Through Histological Examination and Gene Expression of BCL2 and Caspase-3
Latifa Mohamed Abdelgawad *, Ahmed Abdullatif Abdelaziz, Mahmoud Bawdy El-Begawey, Ali Mohamed Saafan

Year 2023
Year 2023
Year 2022
Year 2021
Year 2020
Year 2019
Reports of Biochemistry and Molecular Biology" is an Open Access journal, so publishing an article in the Journal requires a publication fee that will be billed to the submitting author following the acceptance of an article for publication. 37,000,000 Iranian Rials is the fee for

the authors inside of Iran

. Longer papers are subjected to mandatory overlength page charges. Authors from other countries should pay 400 USD via PayPal to Editor-in-chief

RBMB.net.

In order to have fast-tracked, authors should send their request to the Editor-in-Chief and pay an additional fee after the first review by Editor and receiving the initial acceptance letter.


---
Journal Information
Current Issue: 2023، Volume 11، Number 4
Online ISSN:

2322-3480

Director-in-Charge:

Prof. AbdolReza Varasteh

Editor-in-Chief:

Dr. Fatemeh Vahedi

Publisher:

Varastegan Institute for Medical Sciences
Pubmed & Scopus & Doaj & ISI
view RBMB in PubMed Central and Scopus and Doaj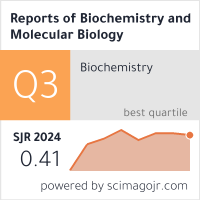 Newsletter subscription
Enter your email address to have site news and announcements delivered directly to your inbox.
Site Statistics
Registered users: 1277 users
Online users: 1 users
Guest users: 48 users
All visits: 6336228 visits
Visits in 24 Hours: 1991 visits
Total articles: 1154 articles
Published articles: 417 articles
Copyright Policy
This license lets others distribute, remix, tweak, and build upon your work, even commercially, as long as they credit you for the original creation. This is the most accommodating of licenses offered. Recommended for maximum dissemination and use of licensed materials.