LAMP3 (CD208) Expression in Squamous Cell Carcinoma and Epithelial Dysplasia of the Oral Cavity and Clinicopathological Characteristics of Unfavorable Prognosis
Mehdi Shahabinejad, Reza zare, Zeynab Asadi, Farnaz Mohajertehran

Para-Clinical and Immunological Evaluation in Buerger's Disease as a Suspected Autoimmune Disease: Case Series
Abbas Shapouri-Moghaddam, Seyed Jalil Tavakkol Afshari, Hamid reza Rahimi, Mohammad-Hadi Saeed Modaghegh, Mahmoud Mahmoudi, Seyed Morteza Ehteshamfar

High Resolution Melting Analysis for Evaluation of mir-612 (Rs12803915) Genetic Variant with Susceptibility to Pediatric Acute Lymphoblastic Leukemia
Payam Siyadat, Hossein Ayatollahi, Mahmood Barati, Maryam Sheikhi, Minoo Shahidi

Serum Levels of Soluble Fas and Fas Ligand in Iranian Women with Pre-eclampsia
Elham Masoumi, Asad Mirzaei, Haniyeh Ghaffari-Nazari, Sahar Tahaghoghi-Hajghorbani, Seyed Amir jalali , Jalil Tavakkol-Afshari

Retinoic Acid Correlates with Reduced Serum IL-10 And TGF-β in Allergic Rhinitis
Akram Davoodi, Ramin Lotfi, Seyed Hamidreza Mortazavi, Ali Gorgin Karaji, Alireza Rezaiemanesh, Farhad Salari

Concomitant Up-Regulation of Hsa- Mir-374 and Down-Regulation of Its Targets, GSK-3β and APC, in Tissue Samples of Colorectal Cancer
Mohammad Reza Bayatiani, Azam Ahmadi , Reza Aghabozorgi, Fatemeh Seif

Effects of Amyloid Precursor Protein Overexpression on NF-κB, Rho-GTPase and Pro-Apoptosis Bcl-2 Pathways in Neuronal Cells
Hong Hao Chan, Yong Qi Leong, Shee Man Voon, Meng Liy Pan, Chee Onn Leong, Chooi Ling Lim, Rhun Yian Koh

Saffron (Crocus Sativus L.), Combined with Endurance Exercise, Synergistically Enhances BDNF, Serotonin, and NT-3 in Wistar Rats
Maryam Akbari-Fakhrabadi , Mohammad Najafi, Soudabehsadat Mortazavian, Amir-Hossein Memari, Farzad Shidfar, Ali Shahbazi, Javad Heshmati

Association of vitamin D receptor polymorphisms (Fok1 (rs2228570), ApaI (rs7975232), BsmI (rs1544410), and TaqI (rs731236)) with gastric cancer among Kurdish population from west of Iran
Zohreh Hoseinkhani, Mohsen Rastegari-Pouyani, Farahnaz Tajemiri, Kheirollah Yari, Kamran Mansouri

PTGS2 Over-expression: A Colorectal Carcinoma Initiator Not an Invasive Factor
Tahereh Zahedi, Abasalt Hosseinzadeh Colagar , Habibollah Mahmoodzadeh

The Comparative Effect of Nisin and Thioridazine as Potential Anticancer Agents on Hepatocellular Carcinoma
Noha El-Sayed Ibrahim , Heba Morsy, Marwa Abdelgwad

Genotype Distribution of Vitamin D Receptor Polymorphisms among Indonesian Patients with Chronic Hepatitis B
Arfianti Arfianti , Athalah Sabillah Sumpena, Fauzia Andrini Djojosugito, Dita Kartika Sari, Ariza Julia Paulina

Investigation of the FSHR, CYP11, and INSR Mutations and Polymorphisms in Iranian Infertile Women with Polycystic Ovary Syndrome (PCOS)
Elaheh Seyed Abutorabi, Batool Hossein Rashidi, Shiva Irani , Fedyeh Haghollahi, Maryam Bagheri

RNA Sequencing of Early-Stage Gastric Adenocarcinoma Reveals Multiple Activated Pathways and Novel Long Non-Coding RNAs in Patient Tissue Samples
Sadegh Fattahi, Novin Nikbakhsh, Hassan Taheri ‎, Mohammad Ranaee, Haleh Akhavan-Niaki

Evaluation of the Effect of Vitamin D Supplementation on Anthropometric Indicators and Dietary Intake of Patients with Type 2 Diabetes
Mahnaz Zarei, Mohammad Hassan Javanbakht, Hanieh Jafary, Mahmoud Djalali

Year 2021
Year 2021
Year 2020
Year 2019
Year 2018
Year 2017
Year 2016
Year 2015
Year 2014
Year 2013
Year 2012
Reports of Biochemistry and Molecular Biology" is an Open Access journal, so publishing an article in the Journal requires publication fee that will be billed to the submitting author following the acceptance of an article for publication. The fee to be paid following the acceptance of an article is 250 US $ for the authors outside of Iran or 30,000,000 Iranian Rials for the authors inside of Iran. Longer papers are subjected to mandatory overlength page charges. To pay in Rial, follow the instruction in website and international payments can be done via PayPal to Editor-in-Chief

RBMB.net.

In order to have fast-tracked, authors should send their request to the Editor-in-Chief and pay an additional fee after first review by Editor and receiving the initial acceptance letter.

---
Journal Information
Current Issue: 2021، Volume 9، Number 4
Online ISSN:

2322-3480

Director-in-Charge:

Prof. AbdolReza Varasteh

Editor-in-Chief:

Dr. Fatemeh Vahedi

Publisher:

Varastegan Institute for Medical Sciences
Pubmed & Scopus & Doaj & ISI
view RBMB in PubMed Central and Scopus and Doaj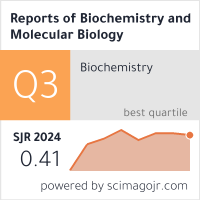 Newsletter subscription
Enter your email address to have site news and announcements delivered directly to your inbox.
Site Statistics
Registered users: 721 users
Online users: 0 users
Guest users: 9 users
All visits: 3365953 visits
Visits in 24 Hours: 4897 visits
Total articles: 653 articles
Published articles: 259 articles
Copyright Policy
This license lets others distribute, remix, tweak, and build upon your work, even commercially, as long as they credit you for the original creation. This is the most accommodating of licenses offered. Recommended for maximum dissemination and use of licensed materials.