The Effect of Fasting on Oxidative Stress in the Vital Organs of New Zealand White Rabbit
Novi Silvia Hardiany *, Adrian Prasetya Karman, Aisha Safa Putri Calista, Budi Gittanaya Anindyanari, Daniell Edward Rahardjo, Puti Retasya Novira, Rania Rifdah Taufiq, Shofiyya Imtiyaz, Radiana Dhewayani Antarianto

Association between Tissue Expression of Toll-Like Receptor and Some Clinicopathological Indices in Oral Squamous Cell Carcinoma
Reza Zare, Kazem Anvari, Farnaz Mohajertehran, Alieh Farshbaf, Atessa Pakfetrat, Amir Houshang Ansari, Maryam Ghelichli *, Nooshin Mohtasham*

Plasma Protein Profile of Lactating Women from Two Primary Health Centers in Jakarta, Indonesia
Ninik Mudjihartini *, Septian Ika Prasetya, Mohammad Sadikin

Association of FOXO1 Rs17592236 Polymorphism and Tumor Size in Papillary Thyroid Carcinoma
Shaghayegh Saljooghi, Zahra Heidari, Mohsen Saravani, Mahnaz Rezaei, Saeedeh Salimi *

In Vitro Differential Sensitivity of Head and Neck Squamous Cell Carcinoma to Cisplatin, Silver Nanoparticles, and Photodynamic Therapy
Marwa Abdelgwad, Dina Sabry, Latifa Mohamed Abdelgawad *, Doaa Mohamed Elroby Ali

Association of Tumor Necrosis Factor-α and Myeloperoxidase enzyme with Severe Asthma: A comparative study
Ahmed Khalid Aldhalmi *, Ali Jihad Hemid Al-Athari, Hayder Abdul-Amir Makki Al-Hindy

Secondary Infertility: A Neglected Aspect of Buerger's Disease
Aghigh Ziaeemehr, Hiva Sharebiani, Hossein Taheri, Bahare Fazeli *

Recombinant Protein Purification using Composite Polyacrylamide-Nanocrystalline Cryogel Monolith Column and Carbohydrate- Binding Module Family 64 as Affinity Tag
Mohsen Danaeifar, Ziba Veisi Malekshahi, Fatemeh Kazemi-Lomedasht, Mohammad Ali Mazlomi *

Kinetic Changes of Ptdins (3,4,5) P3 within Fast and Slow Turnover Rates of Focal Adhesion
Dhurgham Al-Fahad *, Firas Alyaseen, Ahmed Al-Amery, Gagandeep Singh, Mote Srinath, Yahya Abbas, Hafiz Muzzammel Rehman, Yahya Abbas

Regulation of Focal Adhesion Dynamics and Cell Migration by PLC/PI3K-Mediated Metabolism of PtdIns (4,5) P2 in a Breast Cancer Cell Line
Dhurgham Al-Fahad *, Firas Alyaseen, Ahmed Al-Amery, Clementino Ibeas Bin

Development of Human Recombinant Antibodies Against ROR1 Tumor Antigen
Peyman Bemani *, Setareh Moazen, Elham Nadimi, Foroogh Nejatollahi

Isolated Diaphorase From Bovine Erythrocyte Cannot Reduce Oxidized Cytoglobin (Metcygb)
Gissi Novientri, Mohamad Sadikin *, Sri Widia Jusman

Serum Caveolin-1 Level is Inversely Associated with Serum Vaspin, Visfatin, and HbA1c in Newly Diagnosed Men with Type-2 Diabetes
Hameed Hussein Ali, Khalid Al-rawi, Yousif Khalaf, Shakir Alaaraji, Bilal Aldahham, Muthanna Awad, Osamah Al-ani, Faisal Al-ani, Aus Tariq Ali *

Expression of Recombinant CTLA-4 and PD-L1 Proteins Fused with Thioredoxin, and Determination of Their Ligand-Binding Activities
Adish Zhansaya *, Nurtleu Malika, Dzantiev Boris, Tursunov Kanat, Mukantayev Kanatbek, Ramankulov Yerlan, Mukanov Kasym

Increasing of LDH Specific Activity and PEPCK Level Play a Role on Activation of Gluconeogenesis Pathway in Early Onset Pre-Eeclampsia Placenta
Syarifah Dewi, Visabella Rizky Triatmono, Puti Raykhan Rasyada Ralas, Veraldi Veraldi, Irvan Alfian, Febriana Catur Iswanti, Ani Retno Prijanti *

MicroRNAs as Potential Diagnostic New Biomarkers in Diagnosis of Sepsis in Pediatric Patients
Zeinab Nour *, Kariman Elhamamsy, Iman Ehsan, Lobna Fawaz, Olfat Shaker, Dalia Mossallam, Hala ElGindy

Association of a Genetic Variant in the Cyclin-Dependent Kinase Inhibitor 2B with Risk of Pancreatic Cancer
Newsha Sardarzade, Fatemeh khojasteh-Leylakoohi, Sedigheh Damavandi, Ghazaleh Khalili-Tanha, Mohammad Dashtiahangar, Nima Khalili-Tanha, Amir Avan, Sakineh Amoueian, Seyed Mahdi Hassanian, Habibollah Esmaily, Majid Khazaei, Gordon Ferns, Alireza Khooei, Mohsen Aliakbarian *

Correlation Between IL-13rs20541(A> G) Gene Polymorphism and Bronchial Asthma Among Iraqi Patients
Anwar Abdulla *, Nagham Mahmood

Association of Low-Density Lipoprotein-Cholesterol and Its Small, Dense Phenotype with Six-Month Cardiovascular Morbidity
Sufyan Ibrahim, Anurupa Udupi, Cleeta Rebeiro, Varashree Bolar Suryakanth, Asha Kamath, Revathi Panduranga Shenoy *

Intrauterine Instillation of Human Chorionic Gonadotropin with Intrauterine Insemination Catheter Around the Golden Time of Embryo Transfer Does Not Improve In Vitro Fertilization /Intracytoplasmic Sperm Injection Outcomes in Infertile Women: A Randomized Controlled Trial
Elham Naghshineh, Reihanah Dehghani Mohammadabadi, Ferdous Mehrabian, Hatav Ghasemi Tehrani *, Mohammad Javad Tarrahi

Year 2022
Year 2022
Year 2021
Year 2020
Year 2019
Year 2018
Year 2017
Year 2016
Year 2015
Year 2014
Year 2013
Year 2012
Reports of Biochemistry and Molecular Biology" is an Open Access journal, so publishing an article in the Journal requires a publication fee that will be billed to the submitting author following the acceptance of an article for publication. 30,000,000 Iranian Rials is the fee for

the authors inside of Iran

. Longer papers are subjected to mandatory overlength page charges. Authors from other countries should pay 350 USD via PayPal to Editor-in-chief

RBMB.net.

In order to have fast-tracked, authors should send their request to the Editor-in-Chief and pay an additional fee after the first review by Editor and receiving the initial acceptance letter.


---
Journal Information
Current Issue: 2022، Volume 11، Number 2
Online ISSN:

2322-3480

Director-in-Charge:

Prof. AbdolReza Varasteh

Editor-in-Chief:

Dr. Fatemeh Vahedi

Publisher:

Varastegan Institute for Medical Sciences
Pubmed & Scopus & Doaj & ISI
view RBMB in PubMed Central and Scopus and Doaj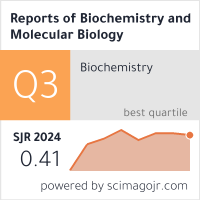 Newsletter subscription
Enter your email address to have site news and announcements delivered directly to your inbox.
Site Statistics
Registered users: 1132 users
Online users: 0 users
Guest users: 45 users
All visits: 5707596 visits
Visits in 24 Hours: 3039 visits
Total articles: 1030 articles
Published articles: 374 articles
Copyright Policy
This license lets others distribute, remix, tweak, and build upon your work, even commercially, as long as they credit you for the original creation. This is the most accommodating of licenses offered. Recommended for maximum dissemination and use of licensed materials.