A Comparative Study to Visualize Ptdins (4,5) P2 and Ptdins (3,4,5) P3 in MDA-MB-231 Breast Cancer Cell Line
Dhurgham Al-Fahad *, Bandar Alharbi, Yahya Abbas, Yahya Alkhafaji

Potential Role of circRNA-HIPK3/microRNA-124a Crosstalk in the Pathogenesis of Rheumatoid Arthritis
Shimaa Saad El-Din *, Laila Ahmed Rashed, Mervat Eissa, Ahmed Bahgat Eldemery, Omnia Abdelkareem Mohammed, Marwa Abdelgwad

Lectin-Like OLR1 3′UTR Rs1050286 Gene Polymorphism and Plasma Oxidized-LDL in Coronary Artery Disease and Their Relation to Cardiovascular Risk and Outcomes
Hanan Sharaf El-Deen Mohammed, Manal Mohamed Kamal, Hala Mostafa ElBadre, Amal Hosni, Azza Abo Elfadl, Mohamed Ahmed Mostafa, Reham Ibrahim El-Mahdy *

More Related Gene Pathways to Vincristine-Induced Death Events in a Human T-Acute Lymphoblastic Leukemia Cell Line
Azam Rashidbaghan, Ali Mostafaie *, Yaghoub Yazdani

Analysis of a Major Phenolic Glucoside and Biochemistry Compounds from Curculigo Orchioides Gaertn
Pham Thanh *, Nu Ngoc Doan Huyen Phan, Van Giang Tran, Thi Quynh Nguyen, Minh Duc Tran, Nguyen Thanh Hung

Prevalence Oncogenic Human Papillomavirus in Cervical Cancer Patients in Riau Province Indonesia
Maya Savira *, Donel Suhaimi, Andani Eka Putra, Yusrawati Yusrawati, Nur Indrawati Lipoeto

Association of rs2954029 and rs6982502 Variants with Coronary Artery Disease by HRM Technique: A GWAS Replication Study in an Iranian Population
Zahereh Karimi, Javad Daneshmoghadam, Hamid Ghaedi, Ehsan Khalili, Ghodratollah Panahi *, Mehrnoosh Shanaki*

Organophosphate Resistance in Aedes aegypti: Study from Dengue Hemorrhagic Fever Endemic Subdistrict in Riau, Indonesia
Suri Dwi Lesmana *, Esy Maryanti, Elva Susanty, Dedi Afandi, Wida Harmas, Delly Noer Octaviani, Iskandar Zulkarnain, Muhammad Agung Bariq Pratama, Mislindawati Mislindawati

Two Novel Mutations in LAMC2 Gene in Iranian Families Affected by Junctional Epidermolysis Bullosa
Maryam Taghdiri, Sirous Naeimi *, Majid Fardaei, Seyd Mohammad Bagher Tabei

Blockade of Nuclear Factor-Κb (NF-Κb) Pathway Using Bay 11-7082 Enhances Arsenic Trioxide-Induced Antiproliferative Activity in U87 Glioblastoma Cells
Ali Nasrollahzadeh, Majid Momeny, Davood Bashash, Hassan Yousefi, Seyed Asadollah Mousavi, Seyed Hamidollah Ghaffari *

Evaluation of Radiotherapy on miR-374 Gene Expression in Colorectal Cancer Patient Blood Samples
Azam Ahmadi, Mohamd Reza Bayatiani, Fatemeh Seif *, Jamshid Ansari, Parisa Rashidi, Mona Moghadasi, Mobarakeh Etemadi

Heterologous Expression and Functional Characterization of CAP18 from Oryctolagus cuniculus
Mahla Nikpoor, Azadeh Lohrasbi-Nejad *, Jafar Zolala

Effect of Proteasome Inhibitor on Vascular Cell Adhesion Molecule-1 (VCAM-1) and Intercellular Adhesion Molecule-1 (ICAM-1) Expressions in Rat Model of Atherosclerosis
Ismawati Ismawati *, Ilhami Romus, Mukhyarjon Mukhyarjon, Afra Muthya

The Impacts of Prepared Plasma-Activated Medium (PAM) Combined with Doxorubicin on the Viability of MCF-7 Breast Cancer Cells: A New Cancer Treatment Strategy
Setareh Zahedian, Azadeh Hekmat *, Saeed Hesami Tackallou, Mahmood Ghoranneviss

A Genetic Variant in Proline and Serine Rich Coiled-Coil 1 Gene Is Associated with the Risk of Cardiovascular Disease
Mohammad Sadegh Khorrami, Fatemeh Sadabadi, Alireza Pasdar, Hamide Safarian-Bana, Forouzan Amerizadeh, Habibollah Esmaeily, Mohsen Moohebati, Alireza Heidari-Bakavoli, Gordon Ferns, Majid Ghayour-Mobarhan *, Amir Avan

Relationship Between IL-2, IL-17 Concentrations, and Serum Creatinine Levels in Men with Chronic Kidney Diseases
Khalid Farouq Al-rawi, Hameed Hussein Ali, Manaf Abdulrahman Guma, Bilal Jasir Mohammed Aldahham, Shakir Faris Tuleab Alaaraji, Osamah Al-ani, Aus Tariq Ali *

PI3K Inhibition Sensitize the Cisplatin-resistant Human Ovarian Cancer Cell OVCAR3 by Induction of Oxidative Stress
SAHAR Baghal-Sadriforoush, Morteza Bagheri *, Isa Abdi Rad, Fattah Sotoodeh Nejadnematalahi

Anti-Inflammatory and Anti-Remodelling Potential of Ethanol Extract Rhodomyrtus Tomentosa in Combination of Asthma and Coal Dust Models
Fujiati Fujiati, Haryati Haryati *

HOTAIR and THRIL Long Non Coding RNAs and Their Target Genes in Rheumatoid Arthritis patients
Engy Medhat *, Ghada Ayeldeen, Hanan Hosni Ahmed, Olfat Shaker, Tamer Gheita, Sara Salma Ashour

Clinical Significance of Circulating Serum Levels of sCD95 and TNF-α in Cytoprotection of Cervical Cancer
Saurabh Kumar Agnihotri, Balawant Kumar, Ankita Jain, Anjali Anjali, Mahendra Pal Singh Negi, Rekha Sachan, Madan Lal Brahma Bhatt, Rekha Sachan, Madan Lal Brahma Bhatt, Raj Kamal Tripathi, Monika Sachdev *

Year 2022
Year 2022
Year 2021
Year 2020
Year 2019
Year 2018
Year 2017
Year 2016
Year 2015
Year 2014
Year 2013
Year 2012
Reports of Biochemistry and Molecular Biology" is an Open Access journal, so publishing an article in the Journal requires a publication fee that will be billed to the submitting author following the acceptance of an article for publication. 30,000,000 Iranian Rials is the fee for the authors inside of Iran. Longer papers are subjected to mandatory overlength page charges. Authors from other countries should conatct Editor to pay the fee.

In order to have fast-tracked, authors should send their request to the Editor-in-Chief and pay an additional fee after the first review by Editor and receiving the initial acceptance letter.

---
Journal Information
Current Issue: 2022، Volume 10، Number 4
Online ISSN:

2322-3480

Director-in-Charge:

Prof. AbdolReza Varasteh

Editor-in-Chief:

Dr. Fatemeh Vahedi

Publisher:

Varastegan Institute for Medical Sciences
Pubmed & Scopus & Doaj & ISI
view RBMB in PubMed Central and Scopus and Doaj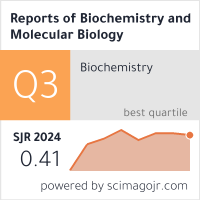 Newsletter subscription
Enter your email address to have site news and announcements delivered directly to your inbox.
Site Statistics
Registered users: 994 users
Online users: 1 users
Guest users: 47 users
All visits: 4801290 visits
Visits in 24 Hours: 2864 visits
Total articles: 917 articles
Published articles: 349 articles
Copyright Policy
This license lets others distribute, remix, tweak, and build upon your work, even commercially, as long as they credit you for the original creation. This is the most accommodating of licenses offered. Recommended for maximum dissemination and use of licensed materials.