Possible role of LncRNA MEG3-microRNA-21 and endoplasmic reticulum (ER) stress proteins in the Pathogenesis of Psoriasis Vulgaris
Zeinab Ahmad Nour *, Yasmin Elwan, Yasser Nassar, Maha Fathy Elmasry, Laila Rashed, Sara Salama Ashour

Association Between HOTAIR rs920778 and H19 rs3741219 Polymorphisms with Hashimoto's Thyroiditis (HT) and Graves' Disease (GD)
Alireza Beiramzadeh, Zahra Heidari, Mahtab Norozi, Mohsen Saravani *

Evaluation of The Effect of Letrozole in the Ovarian Hyperstimulation Syndrome Prevention in Participants at Risk of Treatment with Ovulation-Stimulating Drugs: A Randomized Controlled Trial
Hatav Ghasemi Tehrani, Keihaneh Aasasi, Farahnaz Mardanian, Ferdous Mehrabian, Minoo Movahedi, Elham Naghshineh *

Anti-RAGE (Receptor Advanced Glycation End products) Antibody Improves Diabetic Retinopathy in Rats via Hypoglycemic and Anti-inflammatory Mechanism
Ramzi Amin *, Tiara Bunga Indiarsih, Prima Maya Sari, Petty Purwanita

Comparative Study of New Biomarkers in Iraqi DM2 with and without Complications
Husam Salman Jasim *, Anwar Farooq Altaie, Warkaa Touma Saloum, Ali Hussein Ali

Antibacterial Efficacy of Walnut Green Husk (WGH) Extract with Zinc Oxide Nanoparticles on Streptococcus Mutans
Taraneh Movahhed, Maryam Mehrabkhani, Mohsen Arefnezhad, Shokouh Sadat HAmedi, Reza Zare Mahmoudabadi, Fariba Ghanbari *, Mahjube Rostami

Prognostic Significance of Substance P and Neurokinin-1 Receptor in Bladder Cancer
Elnaz Zahiri, HamidReza Ghorbani, Ali Moradi, Hassan Mehrad-Majd, Fariba Mohammadi, Noorieh Sharifi Sistani, Seyed Isaac Hashemy *

Blood Glucose, HbA1c Level, and its Correlation with VEGF-A (+405G/C) Polymorphism as Biomarker Predicts the Risk of Retinopathy and Nephropathy in Type 2 Diabetic Patients
Hoyam Yousif Hussin Alimam, Waleed Abdelateif Hussein, Sabah Ibrahim, Sara Abdelgani, Nahed Alharthi, Lienda Bashier Eltayeb *, Salih Abdelgadir Elmahdi, AbdElkarim Abobakr Abdrabo

Coding Variants of the FMO3 Gene Are Associated with the Risk of Chronic Kidney Disease: A Case-Control Study
Ismail Shorudi Dadi, Ramin Saravani, Tahereh Khalili *, Saman Sargazi*, Mahdi Majidpour, Mohammad Sarhadi, Shekoufeh Mirinejad, Sheida Shahraki, Ali Alidadi

Synergistic Anti-Cancer Activity of the Combination of 1,25-Dihydroxyvitamin D3 and Retinoic Acid in U937 Cell Line
Abdollah Davodian, Kobra Foroughi, Amir Atashi, Masoud Soleimani *

Investigation of the Frequency and Type of Chromosomal Abnormalities in Women Patients with Amenorrhea
Neda Motamedirad, Susan Hosseini, Reza Ebrahimzadeh-Vesal, Semiramis Tootian, MohammadReza Abbaszadegan *

Efficacy of Sambiloto Extracts, Andrographis paniculate, (Burm. F) in Inhibiting Diabetic Retinopathy Progression: An in Vivo Study
Ramzi Amin *, Muhammad Apriliandy Shariff, Petty Purwanita, Mgs Irsan Saleh

Comparison of Serum Changes of Interleukin-17A and Interleukin-21 Between Schizophrenic Patients and Healthy Individuals
Seyed Ali Miresmaeili Mazrakhondi *, Hadi Zare-Zardini

Evaluation of lncRNA FOXD2-AS1 Expression as a Diagnostic Biomarker in Colorectal Cancer
Hooman Shalmashi, Sahar Safaei, Dariush Shanehbandi, Milad Asadi, Soghra Bornehdeli, Abdolreza Mehdi Navaz *

Importance of Microminerals for Maintaining Antioxidant Function after COVID-19-induced Oxidative Stress
Ravindra Maradi, Vivek Joshi *, Vaideki Balamurugan, Divya Susan Thomas, Manjunath Goud

In Vitro Cytotoxic Activity of Total Flavonoid from Equisetum Arvense Extract
Raghda Makia *, Khulood Al-Sammarrae, Mohammad Al-Halbosiy, Mohammed Al-Mashhadani

Gestational Diabetes Mellitus (GDM), Hypothyroidism, and Gene Variants (Keap1 Rs11085735) in Patients with Preeclampsia
Fatemeh Khadir, Zohreh Rahimi *, Asad Vaisi-raygani, Ebrahim shakiba, Rozita Naseri

In Vitro Metabolite Profiling and Anti-Inflammatory Activities of Rhodomyrtus Tomentosa with Red Blood Cell Membrane Stabilization Methods
Fujiati Fujiati, Haryati Haryati *, Joharman Joharman, Sabrina Wahda Utami

Can Micro RNA-24 Affect the Cardiovascular Morbidity in Systemic Lupus Erythematosus by Targeting YKL-40?
Maha Alhelf, Laila Rashed, Sahar Ahmed, Mohamed Mohamed, Marwa Abdelgwad *

Hepatocellular Damage and Severity of COVID-19 Infection in Iraqi Patients: A Biochemical Study
Zainab Nazar Hasan Anber *, Basil Oead Mohammed Saleh, Mohammed Al-obidy

Year 2023
Year 2022
Year 2021
Year 2020
Year 2019
Year 2018
Reports of Biochemistry and Molecular Biology" is an Open Access journal, so publishing an article in the Journal requires a publication fee that will be billed to the submitting author following the acceptance of an article for publication. 30,000,000 Iranian Rials is the fee for

the authors inside of Iran

. Longer papers are subjected to mandatory overlength page charges. Authors from other countries should pay 350 USD via PayPal to Editor-in-chief

RBMB.net.

In order to have fast-tracked, authors should send their request to the Editor-in-Chief and pay an additional fee after the first review by Editor and receiving the initial acceptance letter.


---
Journal Information
Current Issue: 2022، Volume 11، Number 3
Online ISSN:

2322-3480

Director-in-Charge:

Prof. AbdolReza Varasteh

Editor-in-Chief:

Dr. Fatemeh Vahedi

Publisher:

Varastegan Institute for Medical Sciences
Pubmed & Scopus & Doaj & ISI
view RBMB in PubMed Central and Scopus and Doaj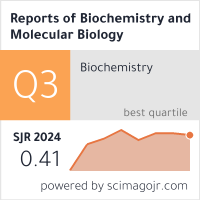 Newsletter subscription
Enter your email address to have site news and announcements delivered directly to your inbox.
Site Statistics
Registered users: 1220 users
Online users: 0 users
Guest users: 46 users
All visits: 6052915 visits
Visits in 24 Hours: 2243 visits
Total articles: 1110 articles
Published articles: 390 articles
Copyright Policy
This license lets others distribute, remix, tweak, and build upon your work, even commercially, as long as they credit you for the original creation. This is the most accommodating of licenses offered. Recommended for maximum dissemination and use of licensed materials.