Molecular and Haematological Characteristics of alpha-Thalassemia Deletions in Yogyakarta Special Region, Indonesia
Nailil Husna, Niken Satuti Nur Handayani *

Expression of Vascular Endothelial Growth Factor A and Its Type 1 Receptor in Supratentorial Neoplasm
Hamid Rezaee, Shadi Abbasnia, Anita Alenabi, Rosita Vakili, Nasrin Moheghi, Jalil Tavakol Afshari, Seyed Abdolrahim Rezaee *

Impact of Berberine on Some Epigenetic, Transcription Regulation and Inflammatory Biomarkers in a Mice Model of Epilepsy
Heba Bassiony Ghanem *, Marwa Nagy Emam, Dareen Abdelaziz Mohammed Ali, Rania Nagi Abd-Ellatif

The Benefits of Curcuminoid to Expression Nuclear Factor Erythroid 2 Related Factor 2 (NRF2) and Signal to Noise Ratio (SNR) Value in the Noise Exposed Organ of Corti of Rattus Norvegicus
Tengku siti Hajar Haryuna *, Diana Amellya, Delfitri Munir, Tengku Siti Harilza Zubaidah

Ghrelin Is Effective on Passive Avoidance Memory by Altering the Expression of NMDAR and HTR1a Genes in the Hippocampus of Male Wistar Rats
Vahideh Sahraiian, Homayoun Khazali *

Molecular Detection of Sexually Transmitted Infections in Women with and without Human Papillomaviruses Infection Who Referred to Tehran West Hospitals in Iran
Seyed Mojtaba Mortazavi, Amin Tarinjoo, Sepideh Dastani, Majid Niazpour, Samira Dahaghin *, Reza Mirnejad*

Analysis of Micro-RNA-144 Expression Profile in Patients with Multiple Sclerosis in Comparison with Healthy Individuals
Fatemeh Roshani, Hossien Delavar Kasmaee, Kowsar Falahati, Ghazaleh Arabzadeh, Atefeh Aohan Forooshan Moghadam, Mohammd Hossein Sanati *

Using the PCR and Blood Agar in Diagnosis of Semen Bacterial Contamination of Fertile and Infertile Men
Alireza Torki, Nour Amirmozafari *, Malihe Talebi, Alireza Talebi

Frequency of blaCTX-M and blaTEM Virulence Genes and Antibiotic Resistance Profiles among Klebsiella pneumoniae Isolates in Urinary Tract Infection (UTI) Samples from Hashtgerd, Iran
Shirin Sarshar, Reza Mirnejad, Ebrahim Babapour *

Investigation of Decitabine Effects on HDAC3 and HDAC7 mRNA Expression in NALM-6 and HL-60 Cancer Cell Lines
Sina Dalvand *, Amin Namdari, Farzad Sepahvand, Mohammad Hassan Meshkibaf, GholamReza Ahmadpour

Effect of Nicotine on STAT1 Pathway and Oxidative Stress in Rat Lungs
Aida Abdeen Mahmoud *, Hekmat Abdel-Aziz, Mohamed Elbadr, Hala ELBadre

The Impact of Intermittent Hypobaric Hypoxia Exposures on Triacylglycerol Synthesis in Rat Liver
Syarifah Dewi *, Yulhasri Yulhasri, Wawan Mulyawan

Effects of Andrographis paniculata (Burm. F.) Extract on Diabetic Nephropathy in Rats
Rachmat Hidayat *, Patricia Wulandari

The Impact of EGCG and RG108 on SOCS1 Promoter DNA Methylation and Expression in U937 Leukemia Cells
Mohsen Alizadeh, Amirhossein Nafari, Ali Safarzadeh, Saeed Veiskarami, Mohammad Almasian, Ali Asghar Kiani *

The Cytokines Responses against Parvovirus B19 in Miscarriage Women and the Susceptibility of their RhD Blood Type to Contract Parvovirus B19 in South of Iraq
Dhurgham Al-Fahad *, Khalid Majeed, Ahmed Al-Naqshbandi, Ahmed Al-Amery, Bandar Fahad Alharbi

Circadian Oscillation of Natural Antisense Transcripts Related to Human Core Clock Genes
Parisa Najari Hanjani, Masoud Golalipour *

Rebaudioside A Enhances LDL Cholesterol Uptake in HepG2 Cells via Suppression of HMGCR Expression
Amirul Nazhan Ilias, Intan Safinar Ismail, Hazilawati Hamzah, Taznim Begam Mohd Mohidin, Mohd Faiz Idris, Mokrish Ajat *

Irisin and Carcinoembryonic Antigen (CEA) as Potential Diagnostic Biomarkers in Gastric and Colorectal Cancers
Ahmed Abd Temur, Farah Aqeel Rashid *

Purification, Characterization, and Inhibition of Tyrosinase from Jerusalem Artichoke (Helianthus Tuberosus L.) Tuber
Omar Younis Al-abbasy *, Wathba Idrees Ali, Aya Ihsan Rashan, Shihab Ahmed Al-bajari

Hepatoprotective Effects of Chitosan and Chitosan Nanoparticles Against Biochemical, Genetic, and Histological Disorders Induced by the Toxicity of Emamectin Benzoate
Sherifa Fathalla Dawoud, Tarek Mostafa Al-Akra, Amina Mohamed Zedan *

Year 2022
Year 2021
Year 2020
Year 2019
Year 2018
Year 2017
Year 2016
Year 2015
Year 2014
Year 2013
Year 2012
Reports of Biochemistry and Molecular Biology" is an Open Access journal, so publishing an article in the Journal requires a publication fee that will be billed to the submitting author following the acceptance of an article for publication. 30,000,000 Iranian Rials is the fee for the authors inside of Iran. Longer papers are subjected to mandatory overlength page charges. Authors from other countries should conatct Editor to pay the fee.

In order to have fast-tracked, authors should send their request to the Editor-in-Chief and pay an additional fee after the first review by Editor and receiving the initial acceptance letter.

---
Journal Information
Current Issue: 2021، Volume 10، Number 3
Online ISSN:

2322-3480

Director-in-Charge:

Prof. AbdolReza Varasteh

Editor-in-Chief:

Dr. Fatemeh Vahedi

Publisher:

Varastegan Institute for Medical Sciences
Pubmed & Scopus & Doaj & ISI
view RBMB in PubMed Central and Scopus and Doaj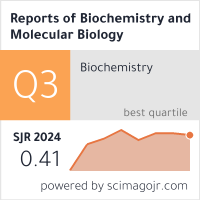 Newsletter subscription
Enter your email address to have site news and announcements delivered directly to your inbox.
Site Statistics
Registered users: 908 users
Online users: 0 users
Guest users: 92 users
All visits: 4306930 visits
Visits in 24 Hours: 2897 visits
Total articles: 833 articles
Published articles: 319 articles
Copyright Policy
This license lets others distribute, remix, tweak, and build upon your work, even commercially, as long as they credit you for the original creation. This is the most accommodating of licenses offered. Recommended for maximum dissemination and use of licensed materials.