A CB2 Receptor Agonist Reduces the Production of Inflammatory Mediators and Improves Locomotor Activity in Experimental Autoimmune Encephalomyelitis
Karim Parastouei, Mohammad Hossein Aarabi, Gholam Ali Hamidi, Zahra Nasehi, Shima Kabiri Arani, Faezeh Jozi, Mohamad Esmaeil Shahabodin *

A Significant Reduction in the Plasma Levels and Gene Expression of CCL2 in Patients with Osteoarthritis following Intervention with Krocina™
Samaneh Beiki, Jalil Tavakkol-Afshari, Zhaleh Shariati-Sarabi, Javad Poursamimi, Arezoo Gowhari Shabgah, Mojgan Mohammadi *

O6-Methylguanine-DNA Methyltransferase and ATP-Binding Cassette Membrane Transporter G2 Promotor Methylation: Can Predict the Response to Chemotherapy in Advanced Breast Cancer?
Sara Ahmed Aglan, Ahmad Mohamad Zaki, Amel Sobhy El Sedfy, Heba Gaber El-Sheredy *, Ola Hussein Elgaddar

Constitutive and Inducible Clindamycin Resistance Frequencies among Staphylococcus sp. Coagulase Negative Isolates in Al-Basrah Governorate, Iraq
Saad Shakir Mahdi Al-Amara *

Correlation of Vitamin D3, PAI-1, and HCG Hormone in Pre- and Post-Menopausal in Babylon Province
Thanaa Abdulmahdi Mokif, Zena Abdul-Ameer Mahdi, Raheem Tuama Obayes Al- Mammori, Hussein Oleiwi Muttaleb Al-Dahmoshi, Noor Salman Kadhim Al-Khafaji *

The IGSF1, Wnt5a, FGF14, and ITPR1 Gene Expression and Prognosis Hallmark of Prostate Cancer
Sheida Ebrahimi, Fariba Rezaei Fakhrnezhad, Sanaz Jahangiri, Mahdis Borjkhani, Rosa Behboodi, Amir Monfaredan *

Red Blood Cell-Conditioned Media from Non-Alcoholic Fatty Liver Disease Patients Contain Increased MCP1 and Induce TNF-α Release
Charalambos Papadopoulos, Konstantinos Mimidis, Dimitris Papazoglou, George Kolios, Ioannis Tentes, Konstantinos Anagnostopoulos *

Melatonin Induced Schwann Cell Proliferation and Dedifferentiation Through NF-ĸB, FAKDependent but Src-Independent Pathways
Navishaa Govindasamy, Kian Chung Chok, Pei Ying Ng, Rhun Yian Koh, Soi Moi Chye *

Association of Exposure to Polycyclic Aromatic Hydrocarbons with Inflammation, Oxidative DNA Damage and Renal-pulmonary Dysfunctions in Barbecue Makers in Southern Nigeria
Augusta Chinyere Nsonwu-Anyanwu *, Augusta Ndudi Idenyi, Sunday Jeremiah Offor, Caroline Chinenyenwa Thomas, Friday Okputu, Clement Emmanuel Edet, Chinyere Adanna Opara Usoro

Correlation of -475 IL-2 Promoter Gene Polymorphisms and the Levels of Serum IL-2 on the Risk of Multiple Sclerosis
Thekra Abdulaali Abed, Anwar Ali Abdulla *

Gene-Gene Interaction Study Between Genetic Polymorphisms of Folate Metabolism and MTR SNPs on Prognostic Features Impact for Breast Cancer
Moataza Moataza Hassan Omran *, Basma El-Sayed Fotouh, Wafaa Ghoneim Shousha, Abeer Ismail, Shimaa Shawki Ramadan

Molecular Investigation of Outer Membrane Channel Genes Among Multidrug Resistance Clinical Pseudomonas Aeruginosa Isolates
Maytham Hassan Jasim Al-Thabhawee *, Hussein Oleiwi Muttaleb Al-Dahmoshi

AMG-232, a New Inhibitor of MDM-2,Enhance Doxorubicin Efficiency in Pre-B Acute Lymphoblastic Leukemia Cells
Abbas Ghotaslou, Amir Samii, Hassan Boustani, Omid Kiani Ghalesardi, Minoo Shahidi *

Anti-neuroinflammatory of Chloroform Extract of Panax ginseng Root Culture on Lipopolysaccharide-stimulated BV2 Microglia Cells
Chee Hoe Cheah, Anna Pick Kiong Ling *, Ying Pei Wong, Rhun Yian Koh, Sobri Hussein

A New Method to Estimate Inhibition Percentage of Endogenous Digitalis in Patients with Pre-eclampsia
Hawraa Saad Al-Kawaz *, Oda Mizil Yasser, Mazin Jaafar Mousa

Understanding the Mechanism Underlie the Antidiabetic Activity of Oleuropein Using Ex-Vivo Approach
Hakam Hasan Alkhateeb *, Nasser Mohammed Kaplan, Mohammed Al-duais

Evaluating the Effects of Separate and Concomitant Use of MK-2206 and Salinomycin on Prostate Cancer Cell Line
Mohamadreza Savaee, Ali Bakhshi, Fatemeh Yaghoubi, Fatemeh Pourrajab *, Koorosh Goodarzvand Chegini

Study of Antibacterial Chemical Substances and Molecular Investigation among Sulfamethoxazole-trimethoprim (SXT)- Resistant Escherichia coli Isolates
Ruaa Ali Muhammed Ali, Jamal Mohammed Ridha Alshara, Nabil Salim Saaid Tuwaij *, Huda Jameel Baker Al-khilkhali

First Record of HAdV-D20 Among Keratoconjunctivitis Patients in Iraq
Masar Riyadh Rashid Al-Mousawi, May Mohammed Ali, Noor Salman Kadhim Al-Khafaji, Hussein Oleiwi Muttaleb Al-Dahmoshi *

Serum Myeloperoxidase as a Biomarker of Asthma Severity Among Adults: A Case Control Study
Shaymaa Obaid Abdullah, Ghazi Mohamad Ramadan, Hayder Abdul-Amir Makki Al-Hindy *, Mazin Jaafar Mousa, Amir Al-Mumin, Safa Jihad, Suhad Hafidh, Yaqeen Kadhum

Year 2022
Year 2022
Year 2021
Year 2020
Year 2019
Year 2018
Year 2017
Year 2016
Year 2015
Year 2014
Year 2013
Year 2012
Reports of Biochemistry and Molecular Biology" is an Open Access journal, so publishing an article in the Journal requires a publication fee that will be billed to the submitting author following the acceptance of an article for publication. 30,000,000 Iranian Rials is the fee for

the authors inside of Iran

. Longer papers are subjected to mandatory overlength page charges. Authors from other countries should pay 350 USD via PayPal to Editor-in-chief

RBMB.net.

In order to have fast-tracked, authors should send their request to the Editor-in-Chief and pay an additional fee after the first review by Editor and receiving the initial acceptance letter.


---
Journal Information
Current Issue: 2022، Volume 11، Number 1
Online ISSN:

2322-3480

Director-in-Charge:

Prof. AbdolReza Varasteh

Editor-in-Chief:

Dr. Fatemeh Vahedi

Publisher:

Varastegan Institute for Medical Sciences
Pubmed & Scopus & Doaj & ISI
view RBMB in PubMed Central and Scopus and Doaj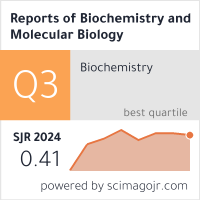 Newsletter subscription
Enter your email address to have site news and announcements delivered directly to your inbox.
Site Statistics
Registered users: 1038 users
Online users: 0 users
Guest users: 111 users
All visits: 4976325 visits
Visits in 24 Hours: 3028 visits
Total articles: 952 articles
Published articles: 355 articles
Copyright Policy
This license lets others distribute, remix, tweak, and build upon your work, even commercially, as long as they credit you for the original creation. This is the most accommodating of licenses offered. Recommended for maximum dissemination and use of licensed materials.