PIA and rSesC Mixture Arisen Antibodies Could Inhibit the Biofilm-Formation in Staphylococcus aureus
Bahman Mirzaei , Ryhaneh Babaei, Mohammad Reza Haghshenas, Mohammad Reza Hagshenas, Fatemeh Mohammadi, Pegah Homayoni, Ebrahim Shafaei

Lower Serum Irisin Levels Are Associated with Increased Osteoporosis and Oxidative Stress in Postmenopausal
Ali Badr Roomi , Wassan Nori, Roaa Mokram Hamed

Alterations in The Plasma Expression of mir-15b, mir-195 and the Tumor-Suppressor Gene DLEU7 in Patients with B-Cell Chronic Lymphocytic Leukemia
Malihe Bagheri, Behzad Khansarinejad, Ghasem Mosayebi, Alireza Moradabadi, Mahdieh Mondanizadeh

Efficacy of Photobiomodulation and Metformin on Diabetic Cell Line of Human Periodontal Ligament Stem Cells through Keap1/Nrf2/Ho-1 Pathway
Latifa Mohamed Abdelgawad , Manar Mohy Abd El-hamed, Dina Sabry, Marwa Abdelgwad

Correlation of SOD and MDA Expression in the Organ of Corti and Changes in the Function of Outer Hair Cells Measured by DPOAE Examination in Noise-Exposed Rat Cochlea
Reastuty Reastuty , Siti Hajar Haryuna

Prevalence of Virulence Genes and Antibiotic Resistance Pattern in Enterococcus Faecalis Isolated from Urinary Tract Infection in Shahrekord, Iran
Roya Jafarzadeh Samani, Elahe Tajbakhsh , Hassan Momtaz, Mohsen Kabiri Samani

Molecular Expression of Some Oncogenes and Predisposing Behaviors Contributing to the Aggressiveness of Prostate Cancer
Mohammad Ghasem Kashanizadeh, Fariba Rezaei Fakhrnezhad, Saeede Yavari, Homa Alizadeh, Payam Hashemim, Amir Monfaredan

The Effect of Quercetin Nanosuspension on Prostate Cancer Cell Line LNCaP via Hedgehog Signaling Pathway
Nadia Mousavi, Shahrzad Rahimi, Hanane Emami, Amir Hossein Kazemi, Rana Mohammad Taghi Kashi, Ronak Heidarian

Pre Transplantation Serum Parathyroid Hormone Influences the Number of Mobilized CD34 + Hematopoietic Stem Cells in Autologous Hematopoietic Stem Cell Transplantation
Abdolhamed Kian, Sayeh Parkhideh , Haniyeh Ghaffari Nazari, Maryam Nikoonezhad, Arsalan Jalili, Shaghayegh Shahsavan, Abbas Hajifathali

Rheumatoid arthritis is associated with KIR2DS4-full among the KIR genes in Lur Population of Iran
Bijan Ansari-Moghaddam, Ali Asghar Kiani, Ali Sheikhian, Mehdi Birjandi, Seyyed Amir Yasin Ahmadi, Nazanin Mousavi, Hamzeh Ali Torang, Farhad Shahsavar

Dysregulation of Key Proteinases in Aspergillus fumigatus Induced by Blood Platelets
Bahareh Arghavan, Mohammad Shafiee, Seyed Jamal Hashemi, Sadegh Khodavaisy, Nazanin Hosseinkhan, Mojtaba Didehdar, Muhammad Getso, Ayatollahi Aliasghar, Sassan Rezaie

Downregulation of Stemness Genes and Induction of Necrosis in Rat LA7 Cancer Stem Cells Induced Tumors Treated with Starved Fibroblasts Culture Supernatant
Roghayeh Pourbagher, Hossein Ghorbani, Haleh Akhavan-Niaki, Seyed Gholam Ali Jorsaraei, Sadegh Fattahi, Sahar Ghooran, Zeinab Abedian, Masoumeh Ghasemi, Fatemeh Saeedi, Negar Jafari, Behnam Kalali, Amrollah Mostafazadeh

Uncoupling Protein 2 Expression Modulates Obesity in Chronic Kidney Disease Patients
Salma Ahmed Shawky, Osama Gaber, Ezzat Mostafa, Walaa Mohamed Sarhan

Cytokeratins (CK7 and CK20 ) Genes Expression Association with Clinicopathological Indices in Oral Squamous Cell Carcinoma and Dysplastic Oral Epithelium
Mehdi Shahabinejad, Reza Zare , Farnaz Mohajertehran, Atefeh Amouzad Mahdiraji

Identification of Trichomonas Vaginalis Genotypes Using by Actin Gene and Molecular Based Methods in Southwest of Iran
Maryam Alikhani, Reza Saberi, Seyed Abdollah Hosseini, Fatemeh Rezaei, Abdol satar Pagheh, Asad Mirzaei

Year 2021
Year 2021
Year 2020
Year 2019
Year 2018
Year 2017
Year 2016
Year 2015
Year 2014
Year 2013
Year 2012
Reports of Biochemistry and Molecular Biology" is an Open Access journal, so publishing an article in the Journal requires publication fee that will be billed to the submitting author following the acceptance of an article for publication. The fee to be paid following the acceptance of an article is 250 US $ for the authors outside of Iran or 30,000,000 Iranian Rials for the authors inside of Iran. Longer papers are subjected to mandatory overlength page charges. To pay in Rial, follow the instruction in website and international payments can be done via PayPal to Editor-in-Chief

RBMB.net.

In order to have fast-tracked, authors should send their request to the Editor-in-Chief and pay an additional fee after first review by Editor and receiving the initial acceptance letter.

---
Journal Information
Current Issue: 2021، Volume 10، Number 1
Online ISSN:

2322-3480

Director-in-Charge:

Prof. AbdolReza Varasteh

Editor-in-Chief:

Dr. Fatemeh Vahedi

Publisher:

Varastegan Institute for Medical Sciences
Pubmed & Scopus & Doaj & ISI
view RBMB in PubMed Central and Scopus and Doaj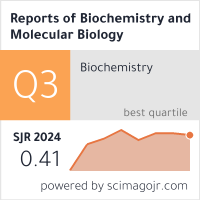 Newsletter subscription
Enter your email address to have site news and announcements delivered directly to your inbox.
Site Statistics
Registered users: 752 users
Online users: 1 users
Guest users: 6 users
All visits: 3503038 visits
Visits in 24 Hours: 5012 visits
Total articles: 682 articles
Published articles: 271 articles
Copyright Policy
This license lets others distribute, remix, tweak, and build upon your work, even commercially, as long as they credit you for the original creation. This is the most accommodating of licenses offered. Recommended for maximum dissemination and use of licensed materials.