Roles of Endocytic Processes and Early Endosomes on Focal Adhesion Dynamics in MDA-MB-231 Cells
Bandar Fahad Alharbi, Dhurgham Al-Fahad *, Philip Richard Dash

Accurate and Precise Protocol to Estimate the Activity of Peroxiredoxin Enzyme
Thulfeqar Hamza, Mahmoud Hussein Hadwan *

The Correlation between Selenium Dependent Glutathione Peroxidase Activity and Oxidant/Antioxidant Balance in Sera of Diabetic Patients with Nephropathy
Abdulateef Altuhafi, Muhammed Altun, Mahmoud Hussein Hadwan *

Investigation of Zinc Supplement Impact on the Serum Biochemical Parameters in Pulmonary Tuberculosis: A Double Blinded Placebo Control Trial
Bahareh Zolfaghari *, Mahboobeh Ghanbari, Hadis Musavi, Parizad Bavandpour Baghshahi, Mohammad Taghikhani, Fatemeh Pourfallah

Evaluation of Oxidative Stress, Apoptosis, and Expression of MicroRNA-208a and MicroRNA-1 in Cardiovascular Patients
Asma Mohammadi, Ali Reza Balizadeh Karami, Vahid Dehghan Mashtani, Tooba Sahraei, Zeinab Bandani Tarashoki, Ehsan Khattavian, Sara Mobarak, Hossein Moradi Kazerouni, Esmat Radmanesh *

Evaluation of Serum Cyclooxygenase, Hepcidin Levels in Acute Renal Injury (AKI) Patients Following Cardiac Catheterization
Hind Fawzi Aref *, Nazar Ahmed Naji, Hadaf Dhafir Ibrahim

Pre-and Post-Transplant Serum Lactate Dehydrogenase Levels as a Predictive Marker for Patient Survival and Engraftment in Allogeneic Hematopoietic Stem Cell Transplant Recipients
Elham Roshandel, Sayeh Parkhideh *, Haniyeh Ghaffari Nazari, Mahshid Mehdizadeh, Hossein Bonakchi, Ghazaleh Sankanian, Abbas Hajifathali

Association of IL-15 and IP-10 Serum Levels with Cytomegalovirus Infection, CMV Viral Load and Cyclosporine Level after Kidney Transplantation
Reza Asadzadeh, Pedram Ahmadpoor *, Mohsen Nafar, Shima Samavat, Hassan Nikoueinejad, Morteza Hosseinzadeh, Nahid Mamizadeh, Saeideh Hatami, Elham Masoumi, Aliakbar Amirzargar

Evaluation of NUF2 and GMNN Expression in Prostate Cancer: Potential Biomarkers for Prostate Cancer Screening
Shaghayegh Pezeshki, Payam Hashemi, Alireza Salimi, Sheida Ebrahimi, Mandana Javanzad, Amir Monfaredan *

The Relationship Between HCV-NS5A Gene Mutations and Resistance to Combination Therapy in Patients with HCV- Genotype 1-B
Hamed Esmaeil Lashgarian *, Ali Valibeik, Abdolrazagh Marzban, Maryam Karkhane, Kiana Shahzamani

Prediction of Blood miRNA-mRNA Regulatory Network in Gastric Cancer
Mona Noohi, Mojdeh Hakemi-vala *, Jamileh Nowroozi, Seyed-Reza Fatemi, Mehrouz Dezfulian

Evaluation of The Safety and Efficacy of Newly Developed Domestic Allergenic Extracts for Skin Prick Testing
Mohammad Fereidouni, Roya Mahdavi, Sarah Mahmoudzade, Hadis Rezapoor, Alireza Fereidouni *, Afsane Bahrami

Highlighting Levels of Indoxyl Sulphate among Critically Ill Patients with Acute Nephrotoxicity; Correlations Between Indoxyl Sulphate Levels and Patients' Characteristics
Nermien Yousef Selim, Hazem Farag Mannaa *, Ola Atef Sharaki, Tayseer Zaytoun, Noha Elkholy, Waleed Arafat

Whole-Exome Sequencing Identified a Novel Variant (C.405_422+39del) in DSP Gene in an Iranian Pedigree with Familial Dilated Cardiomyopathy
Yeganeh Eshaghkhani, Arezoo Mohamadifar, Mostafa Asadollahi, Mahdieh Taghizadeh, Arezou Karamzade, Mohammad Saberi, Parisa Nourmohammadi, Zahra Golchehre, Ahmad Amin, Mohammad Keramatipour *

Anti-Inflammatory Activity of S. Marianum and N. Sativa Extracts on Macrophages
Maryam Bahrami, Ali Ghazavi, Ali Ganji, Ghasem Mosayebi *

Association of Serum Asymmetric Dimethylarginine with the Severity of Coronary Artery Disease: A Pilot Study
Lakshmi Goudhaman, Anusha Raja Jagadeesan, Saranya Sundaramoorthi, Spandana Thotla *, Surapaneni Krishna Mohan

Effect of Obesity on Plasma Alkaline Phosphatase Activity in Breast Cancer
Farah Aqeel Rashid *, Sarah Mahdi, Shaymaa Abd-alkader Mahdy, Ahmed Thamer Salim

Signaling Pathway in the Osmotic Resistance Induced by Angiotensin II AT2 Receptor Activation in Human Erythrocytes
Camila Cristina Guimarães-Nobre, Evelyn Mendonça-Reis, Luana Passinho-da-Costa, Leandro Miranda-Alves, Clemilson Berto-Junior *

Association Between NOX4 And Nrf2 Genes in Non-Small-Cell Lung Carcinoma: A Case-Control Study
Nasim Bakhtiyari *, Akbar Sharifi, Younes Aftabi, Neda Gilani, Venus Zafari, Venus Zafari, Atefeh Ansarin, Ensiyeh Seyedrezazadeh

Effect of Total Suspended Particulate Matter in the Air on Inflammation Factors and Apoptotic Markers in Diabetic Rats: The Protective Effect of Insulin and Crocin
Asma Mohammadi, Ali Reza Balizadeh Karami, seyyed Ali Mard, Gholamreza Goudarzi, Heidar Maleki, Narges Chamkouri, Sara Mobarak, Esmat Radmanesh *

Year 2021
Year 2021
Year 2020
Year 2019
Year 2018
Year 2017
Year 2016
Year 2015
Year 2014
Year 2013
Year 2012
Reports of Biochemistry and Molecular Biology" is an Open Access journal, so publishing an article in the Journal requires a publication fee that will be billed to the submitting author following the acceptance of an article for publication. The fee to be paid following the acceptance of an article is 350 US$ for the authors outside of Iran or 30,000,000 Iranian Rials for the authors inside of Iran. Longer papers are subjected to mandatory overlength page charges. To pay in Rial, follow the instruction on the website and international payments can be done via PayPal to Editor-in-Chief

RBMB.net.

In order to have fast-tracked, authors should send their request to the Editor-in-Chief and pay an additional fee after the first review by Editor and receiving the initial acceptance letter.

---
Journal Information
Current Issue: 2021، Volume 10، Number 2
Online ISSN:

2322-3480

Director-in-Charge:

Prof. AbdolReza Varasteh

Editor-in-Chief:

Dr. Fatemeh Vahedi

Publisher:

Varastegan Institute for Medical Sciences
Pubmed & Scopus & Doaj & ISI
view RBMB in PubMed Central and Scopus and Doaj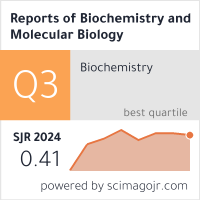 Newsletter subscription
Enter your email address to have site news and announcements delivered directly to your inbox.
Site Statistics
Registered users: 823 users
Online users: 0 users
Guest users: 59 users
All visits: 3897047 visits
Visits in 24 Hours: 3907 visits
Total articles: 756 articles
Published articles: 296 articles
Copyright Policy
This license lets others distribute, remix, tweak, and build upon your work, even commercially, as long as they credit you for the original creation. This is the most accommodating of licenses offered. Recommended for maximum dissemination and use of licensed materials.