Protective Effects of Cinnamic Acid Against Hyperglycemia Induced Oxidative Stress and Inflammation in HepG2 Cells
Mohammad Yazdi, Amirhossein Nafari, Mojgan Azadpour, Mahdi Alaee, Forouzan Hadipour Moradi, Razieh Choghakhori, Maryam Hormozi, Hassan Ahmadvand *

Effect of Melatonin on Alpha Synuclein and Autophagy in Dopaminergic Neuronal Differentiation of Adipose Mesenchymal Stem Cells
Hadeer Ahmed Mohamed Ibrahim, Abdelaziz Mohamed Hussein *, Mahmoud Gabr, Rasha Aly El-Saeed, Omar Abd-Alhakem Ammar, Ahmed Abdulatif Hassan Mosa, Abdel-Aziz Fatouh Abdel-Aziz

Protein Expression and Purification of Romiplostim and Analysis of Its Secretory Production Using an In Silico Investigated Signal Peptide in E. Coli
Masoud Hashemzaei, Manica Negahdaripour *, Reza Heidari, Mohammad Bagher Ghoshoon*

RT-qPCR Analysis of LAMP3 (CD208) Gene Expression in Oral Lichen Planus and Oral Squamous Cell Carcinoma
Farnaz Mohajer Tehran, Nooshin Mohtasham, Mojtaba Ahmadi, Mehdi Shahabinejad *, Maryam Mohammadi*

Bone Marrow-Derived Mesenchymal Stem Cells and Pioglitazone or Exendin-4 Synergistically Improve Insulin Resistance via Multiple Modulatory Mechanisms in High-Fat Diet/Streptozotocin-Induced Diabetes in Rats
Mohamed Mohamed Mesbah, Laila Ahmed Rashed, Noha Ahmed El-Boghdady, Mahmoud Mohamed Said *

Role of Cannabinoid Type 2 Receptor Activation in Renal Fibrosis Induced by Unilateral Ureteric Obstruction in Rats
Mahmoud El Tohamy *, Mohamed Adel, Fayza Rashad El-Menabawy, Gad El Mawla Gad, Randa El-Gamal, Hanaa El Serougy

Farnesyltransferase (FTase) Inhibitors Increase Inhibition of KIT Mutants by Imatinib
Zhaoyang Fan, Liangying Zhang, Shaoting Zhang, Anbu Liu, Shujing Li, Xu Cao, Jinhai Tian, Sien Zhao, Jianmin Sun *

The Prognostic Significance of P16 Immunohistochemical Expression Pattern in Women with Invasive Ductal Breast Carcinoma
Alireza Rezaei, Navidreza Shayan, Saman Shirazinia, Sara Mollazadeh, Negin Ghiyasi-Moghaddam *

Transcriptome Data Reveal Geographic Heterogeneity in Gene Expression in Patients with Prostate Cancer
Yi Zheng, Yang Wang, Haitian He, Zhuping Zou, Huiling Lu, Jinlong Li, Jun Cai, Kebing Wang *

Association of lncRNA MEG3 Rs7158663 Polymorphism and Serum Expression with Colorectal Cancer in Egyptian Patients
Mona Elhelaly Elsherbeny *, Alyaa Ramadan Elsergany, Olfat Gamil Shaker

Aberrant Methylation of the SOD1 GENE, its Expression and Enzyme Activity in the Placenta of Patients with Preeclampsia
Saba Zakeri, Zohreh Rahimi *, Nazanin Jalilian, Asad Vaisi-Raygani, Ali Rezvani, Zahra Dastafkan

Expression Level of lncRNA CYTOR in Iranian Cervical Cancer Patients
Ali Rajabi, Narges Dastmalchi, Neda Shokri, Samaneh Tayefeh-Gholami, Seyyed Mohammad Yaghobi, Reza Safaralizadeh *

Anti-Cancer Effect of Dorema Ammoniacum Gum by Targeting Metabolic Reprogramming by Regulating APC, P53, KRAS Gene Expression in HT-29 Human Colon Cancer Cells
Elham Ghodousi-Dehnavi, Mohammad Arjmand *, Ziba Akbari, Mansour Aminzadeh Bukani, Reza Haji Hosseini

Effect of miR-18a-5p, miR-19a-3p, and miR-20a-5p on In Vitro Cardiomyocyte Differentiation of Human Endometrium Tissue-Derived Stem Cells Through Regulation of Smad4 Expression
Behnaz Maleki, Mahdi Noureddini, Somayeh Saadat, Javad Verdi, Alireza Farrokhian, Hossein Ghanbarian, Ebrahim Cheraghi, Behrang Alani *

Possible Role of Oxidative Stress and Nrf2/HO-1 Pathway in Pentylenetetrazole-induced Epilepsy in Aged Rats
Walaa Obydah *, Ahmed Fathi Abouelnaga, Marwa Abass, Somaya Saad, Asmaa Yehia, Omar Abd-Alhakem Ammar, Alaa Mohamed Badawy, Mohie Mahmoud Ibrahim, Abdelaziz Mohamed Hussein

Effect of Gallic Acid Pretreatment and SGK1 Enzyme Inhibition on Cardiac Function and Inflammation in a Rat Model of Ischemia-Reperfusion Injury
Faramarz Souri, Mohammad Badavi *, Mahin Dianat, Seyyed Ali Mard, Alireza Sarkaki

Gene Polymorphism, Microdeletion, and Gene Expression of PRM1, PRM2, AZFc in Infertile Males
Nashwa Jabbar Kadhum, Narges Dastmalchi, Parisa Banamolaei, Reza Safaralizadeh *

The GPx-1 Gene Variants (rs1050450) in Obesity: Association with the Risk of Obesity and the GPx Activity in Females
Avan Arif Ahmad, Zohreh Rahimi *, Soheila Asadi, Asad Vaisi-Raygani, Maryam Kohsari

Regulatory Role of circRNA-0067835 in Behcet Disease through Targeting Micro RNA-155: Implication of ATG1, AKT and MTOR
Shimaa Saad El-Din *, Laila Ahmed Rashed, Doaa Saeed Mohamed, Mervat Eissa, Reham Mohammad Raafat Hamed, Rania Elsayed Hussein

Streptococcus Mutans Serotype Analysis from Dental Plaque of Caries Patients in Banda Aceh Based on the GTF Gene
Santi Chismirina, Suzanna Sungkar, Muhammad Adlim, Darmawi Darmawi *

Year 2023
Year 2023
Year 2022
Year 2021
Year 2020
Year 2019
Reports of Biochemistry and Molecular Biology" is an Open Access journal, so publishing an article in the Journal requires a publication fee that will be billed to the submitting author following the acceptance of an article for publication. 37,000,000 Iranian Rials is the fee for

the authors inside of Iran

. Longer papers are subjected to mandatory overlength page charges. Authors from other countries should pay 400 USD via PayPal to Editor-in-chief

RBMB.net.

In order to have fast-tracked, authors should send their request to the Editor-in-Chief and pay an additional fee after the first review by Editor and receiving the initial acceptance letter.


---
Journal Information
Current Issue: 2023، Volume 12، Number 1
Online ISSN:

2322-3480

Director-in-Charge:

Prof. AbdolReza Varasteh

Editor-in-Chief:

Dr. Fatemeh Vahedi

Publisher:

Varastegan Institute for Medical Sciences
Pubmed & Scopus & Doaj & ISI
view RBMB in PubMed Central and Scopus and Doaj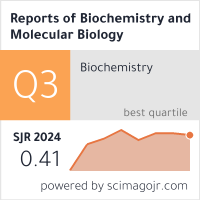 Newsletter subscription
Enter your email address to have site news and announcements delivered directly to your inbox.
Site Statistics
Registered users: 1399 users
Online users: 0 users
Guest users: 92 users
All visits: 7008587 visits
Visits in 24 Hours: 3826 visits
Total articles: 1264 articles
Published articles: 443 articles
Copyright Policy
This license lets others distribute, remix, tweak, and build upon your work, even commercially, as long as they credit you for the original creation. This is the most accommodating of licenses offered. Recommended for maximum dissemination and use of licensed materials.