The Effect of Nano-Curcumin Supplementation on Pentraxin 3 Gene Expression and Serum Level in Migraine Patients
Mona Djalali, Mahmoud Djalali, Mina Abdolahi, Hamed Mohammadi, Hajar Heidari, Shayesteh Hosseini, Majid Sadeghizadeh *

Assessment of GSTO1 (A140D) and GSTO2 (N142D) Gene Polymorphisms in Iranian Women with Polycystic Ovarian Syndrome
Seyyed Shahram Miraghaee, Maryam Sohrabi, Cyrus Jalili, Fariborz Bahrehmand *

Investigation of 3T3-L1 Cell Differentiation to Adipocyte, Affected by Aqueous Seed Extract of Phoenix Dactylifera L
Behrouz Etesami, Sara Ghaseminezhad, Azin Nowrouzi *, Marzieh Rashidipour, Razieh Yazdanparast

Evaluation of TP53 Codon 72, P21 Codon 31, and MDM2 SNP309 Polymorphisms in Iranian Patients with Acute Lymphocytic Leukemia
Ahmad Lotfi Garavand, Mohammad Mohammadi, Sara Mohammadzadeh *

Evaluation of the Epigenetic Demethylation of NRF2, a Master Transcription Factor for Antioxidant Enzymes, in Colorectal Cancer
Zahra Taheri, Hamid Asadzadeh Aghdaei, Shiva Irani *, Mohammad Hossein Modarressi, Zahra Noormohammadi

The Relationship between KIT Copy Number Variation, Protein Expression, and Angiogenesis in Sporadic Breast Cancer
Maryam Rahimi, Farkhondeh Behjati, Hamid Reza Khorram Khorshid, Masoud Karimlou, Elahe Keyhani *

Expression and Purification of a Bispecific Antibody against CD16 and Hemagglutinin Neuraminidase (HN) in E. Coli for Cancer Immunotherapy
Mina Bahrololoumi Shapourabadi, Farzin Roohvand, Arash Arashkia, Nasir Mohajel, Shahriyar Abdoli, Zahra Shahosseini, Frank Momburg, Mostafa Jarahian, Mohsen Abolhassani, Kayhan Azadmanesh *

Association between Coronary Artery Disease and rs10757278 and rs1333049 Polymorphisms in 9p21 Locus in Iran
Farbod Yaghoubi Hariri, Iman Salahshourifar *, Shohreh Zare Karizi

Decreased Threshold of Fasting Serum Glucose for Cardiovascular Events: MASHAD Cohort Study
Fatemeh Sadabadi, Aida Gholoobi, Alireza Heidari-Bakavol, Mohsen Mouhebati, Ali Javandoost, Zahra Asadi, Maryam Saberi-Karimian, Susan Darroudi, Mohammad Sadegh Khorrami Mohebbseraj, Farzad Rahmani, Najmeh Malekzadeh Gonabadi, Fatemehalsadat Jafari Sheshtamad, Sara Samadi, Afsane Bahrami, Gordon Ferns, Majid Ghayour-Mobarhan, Habibollah Esmaeili *

Increased mRNA Expression of CTRP3 and CTRP9 in Adipose Tissue from Obese Women: Is it Linked to Obesity-Related Parameters and mRNA Expression of Inflammatory Cytokines?
Seyed Mohammad Masoodian, Karamollah Toolabi, Abolfazl Omidifar, Hossein Zabihi, Ali Rahimipour, Mehrnoosh Shanaki *

Prevalence of Occult Hepatitis B Virus Infection in Hemodialysis Patients Using Nested PCR
Elham Samadi, Hessam Mirshahabi *, Nima Motamed, Hamid Sadeghi

The Construction of Carbon Nanotubes Containing an Anti-Bacterial Chemical Component and its Effect on MDR and XDR Isolates of Pseudomonas Aeruginosa
Kamelia Banihashemi, Behnam Sobouti, Iraj Mehregan, Ronak Bakhtiari, Nour Amirmozafari *

ACE2 as Drug Target of COVID-19 Virus Treatment, Simplified Updated Review
Gomaa Mostafa-Hedeab *

Introducing a Stabilizer Formulation for Allergenic Mold Extracts
Nazila Ariaee, Mojtaba Sankian, Abdolreza Varasteh, Malihe Moghadam, Farahzad Jabbari *

Metformin Ameliorates Oxidative Stress Induced by Diabetes Mellitus and Hepatocellular Carcinoma in Rats
Maysa Ahmed Mobasher *, Hala Galal El-Tantawi, Karim Samy El-Said

Year 2020
Year 2020
Year 2019
Year 2018
Year 2017
Year 2016
Year 2015
Year 2014
Year 2013
Year 2012
Reports of Biochemistry and Molecular Biology" is an Open Access journal, so publishing an article in the Journal requires publication fee that will be billed to the submitting author following the acceptance of an article for publication. The fee to be paid following the acceptance of an article is 250 US $ for the authors outside of Iran or 20,000,000 Iranian Rials for the authors inside of Iran. Longer papers are subjected to mandatory overlength page charges. To pay in Rial, follow the instruction in website and international payments can be done via PayPal to Editor-in-Chief

RBMB.net.

In order to have fast-tracked, authors should send their request to the Editor-in-Chief and pay an additional fee after first review by Editor and receiving the initial acceptance letter.

---
Journal Information
Current Issue: 2020، Volume 9، Number 1
Online ISSN:

2322-3480

Director-in-Charge:

Prof. AbdolReza Varasteh

Editor-in-Chief:

Dr. Fatemeh Vahedi

Publisher:

Varastegan Institute for Medical Sciences
Pubmed & Scopus & Doaj & ISI
view RBMB in PubMed Central and Scopus and Doaj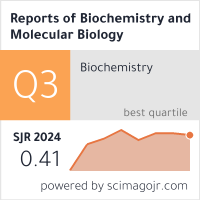 Newsletter subscription
Enter your email address to have site news and announcements delivered directly to your inbox.
Site Statistics
Registered users: 570 users
Online users: 0 users
Guest users: 1 users
All visits: 2800614 visits
Visits in 24 Hours: 1480 visits
Total articles: 544 articles
Published articles: 222 articles
Copyright Policy
This license lets others distribute, remix, tweak, and build upon your work, even commercially, as long as they credit you for the original creation. This is the most accommodating of licenses offered. Recommended for maximum dissemination and use of licensed materials.